Transport infrastructure contractors and clients alike are battling the impacts of rapidly rising costs. Rhodri Clark reports on the difficulties and coping strategies.
High inflation rates cause economic problems even in what could be regarded as normal times, but this year they are even more damaging than usual because of their suddenness. This time last year, nobody could have predicted that the global resumption of activities after the worst of the COVID pandemic, followed by war in Europe, would push inflation up to its highest level in three decades, with official forecasts of UK RPI and RPIX peaking at 11% at the end of 2022.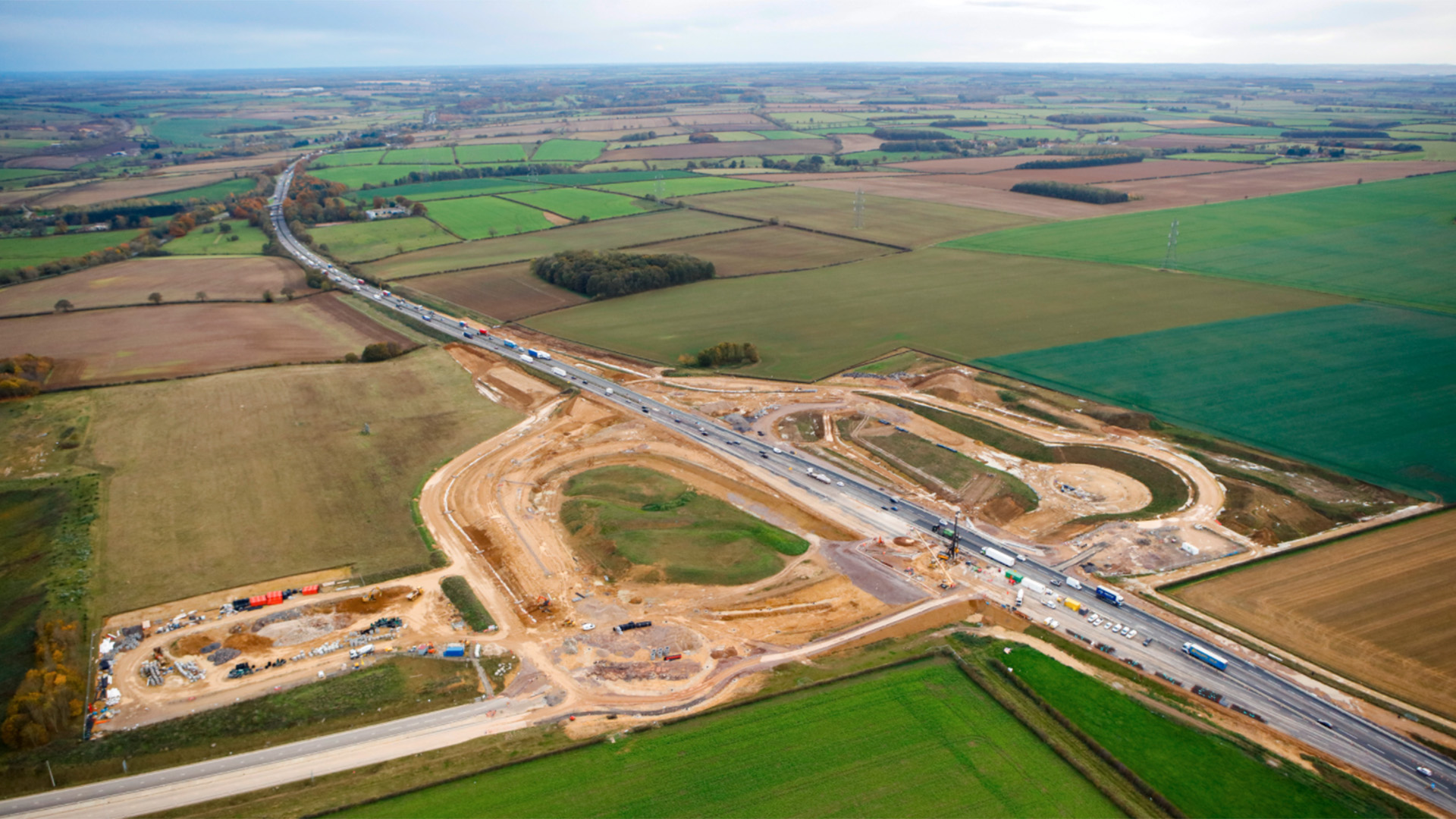 The situation is all the more painful in the UK because it follows many years of steady low inflation, which may have lulled infrastructure contractors and their clients into a false sense of security. Contracts, in general, were not drawn up with such a large and sudden inflationary surge in mind.
Similarly, infrastructure budgets are premised on inflationary business as usual. This now leaves organisations, from the UK Government down to local authorities, having to reconsider what they can afford and what they must reluctantly sacrifice or postpone. The DfT, for example, commenced a review of its major road network policy in January, well before Russia's invasion of Ukraine triggered further increases in oil and other prices.
In the letter to sub-national transport bodies in January asking them to reconsider their projects, Philip Andrews, head of road investment, policy and pipeline development at the DfT said: 'It is likely that we will not have sufficient funding to continue to fund all the schemes currently in the programme to the current scale or timing.'
David Renard, transport spokesperson for the Local Government Association, observes: 'High rates of inflation will impact councils' ability to deliver across all local services. Transport infrastructure is no exception.
'Funding levels, together with the construction inflation, will make it make it difficult to plan future maintenance programmes and nearly impossible for councils to tackle the £12bn backlog of road repairs that now exists.'
Contractors and suppliers are also hamstrung. 'We're seeing very substantial increases across the range of products that are used in the construction industry,' reports Alasdair Reisner, chief executive of the Civil Engineering Contractors Association.
'For the infrastructure side, the big concerns would be black top, steel products (including rebar) and concrete products.'
Mark Ollerton, National Highways' commercial delivery director, says: 'Our main construction and maintenance contracts are not fixed price/lump sum but are defined cost targets with capped pain/gain mechanisms that share the delivery risk and opportunity. Under such contracts the inflation pricing mechanism is maintained by the application of industry specific cost indices which track real time market inflation.'
Some Network Rail contracts, however, have fixed delivery prices. This gives Network Rail some protection from the high inflation, but other contracts include indexation for inflation. It has not asked for any additional funding for its current programme because it places great importance on its efficiency programme. It has recently reduced the unit costs of station platforms, bridges and lifts, for example.
Mark Stevens, chair of ADEPT's engineering board, says it was common for local authorities to include indexation in contracts because inflation was so low for so long, and no significant budgetary repercussions were expected from indexation.
ADEPT has fed the message back to government that inflation is a real issue, but there has been no uplift in funding for highway maintenance. Mr Stevens says that for many years he has argued that flatlining funding is not the right approach for highway maintenance because local road networks grow (including where authorities adopt new highways) and inflation takes its toll. A static funding allocation over six years diminishes over the period.
'The money doesn't buy you as much at the end of the six-year period because you've got more roads to maintain and inflation goes up,' he said. Mr Reisner says the situation for projects is currently worrying. 'Project budgets are under a lot of stress as result of everything that's going on.
'For companies that are on existing fixed-price contracts, it's going to be very challenging indeed, because margins which were in the low single figures just get blown out of the water by double-digit inflation. Some prices are going up by 40% to 50% – we're seeing evidence of that with some of the steel products.'
He fears that some contractors will fail. He says the disruption of the last two years has left many companies without the headroom to deal with the inflationary problem.
'The challenge with company failure, along with the human cost and people losing their jobs, is the domino effect to suppliers. That could cause wider damage along supply chains,' he warns.
Mr Reisner says customers should not regard the inflationary pressures as a matter for contractors to deal with. 'It's in no-one's interests to have suppliers under water or failing.'
However, he acknowledges that customers do not have the money to increase payments to contractors and suppliers. He hopes that customers, contractors and the supply chain will avoid adversarial behaviour and accusations that one party is exploiting the situation for financial benefit, and urges everyone to accept that the situation is of nobody's making.
'That puts people in the right mindset to say, "We recognise this is happening – what's the best way to manage the process so that we can continue to deliver for our customers and the whole of the supply chain remains sustainable?"'
Mr Reiser argued the UK Government could help to find other sources of materials which previously came from Ukraine, Russia and Belarus. 'The problem with that is everyone else around the world is also thinking along those lines.' He also suggests that tariffs and quotas could be examined. Help for industry on energy costs would also be beneficial, but he adds:
'That's pretty challenging because there's only so much power governments have to support industry, because of their financial firepower but also rules on state aid.'
He hopes that customers, contractors and the supply chain will work together to identify ways to deliver the same outcomes at lower cost, including through possible efficiency or productivity gains. 'It might be about taking pragmatic decisions that we won't deliver what we had intended.'
During the pandemic, customers' flexibility on timescales was valuable. Mr Reisner believes that allowing more time on contracts might be worth considering now but would be less significant than during the pandemic because prices are currently a bigger problem than delays to materials or high rates of sickness absence.
Mr Stevens notes that this year's £1.25bn allocation for local highway maintenance in England is not scheduled to increase next year or the year after. 'It's a case of local authorities looking to see what they can and can't do,' says Mr Stevens, who is Haringey Council's assistant director direct services. He believes most authorities are now plotting their course through to next March.
'One of my counterparts [in another authority] was saying that because of the price rises, they were not going to proceed with their surface dressing programme this year.
'Local authorities will cut their cloth so the preventative maintenance takes a bit of a hit, because we've got to make sure we can maintain the network from a reactive point of view. The duty is to maintain a safe network, as far as reasonably possible.'
Amid the severe gloom, there is a glimmer of hope. The most recent forecasts show that the Office of Budget Responsibility expects RPIX to peak at 11% at the end of this year but reduce through 2023, reaching 5.1% in the second quarter. After troughing at 1.8% in early 2024, RPIX is expected to stabilise at around 2.5%.