The Government's provisional road casualty statistics report reveals there were 1,748 reported road deaths in 2019 in Great Britain, a 2% fall on 2018.
Overall, there was a total of 153,315 casualties of all severities in reported road traffic incidents in 2019 - 5% lower than in 2018 and the lowest level since modern records began in 1979.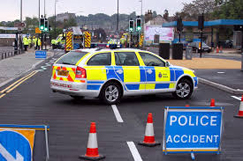 Accounting for change in traffic, the rate of fatalities per billion vehicle miles has fallen by 2% from 5.38 in 2018 to 5.25 fatalities per billion vehicle miles in 2019.
While these results are positive, Department for Transport officials accepted that the overall trend in road casualty data continues to remain stagnant with little improvement in killed or seriously injured statistics.
'The trend in the number of fatalities has been broadly fat since 2010. Previously, and particularly between 2006 and 2010, the general trend was for fatalities to fall. Since that point, most of the year on year changes are either explained by one-of causes (for instance, the snow in 2010) or natural variation,' the casualty report states.
'The evidence points towards Britain being in a period when the fatality numbers are stable and most of the changes relate to random variation. The number of fatalities in 2019 (1,748) was 2% less than in 2018 (1,784), however, this small decrease may be due to natural variation.'
There were 25,975 serious injuries in road traffic incidents reported to the police in 2019. However, from 2016 large numbers of police forces have adopted a new reporting system (CRASH) comparisons with earlier years should be made with caution.
The DfT statistics do include earlier figures that have been adjusted using an Office of National Statistics model to reflect the current system.
Assuming that all police forces were using injury-based severity reporting systems, the analysis estimates that there were 27,840 serious injuries and 29,588 people killed or seriously injured in 2019.
In 2019, there were 125,592 slightly injured casualties in reported road traffic incidents reported to the police. Applying the severity adjustments methodology developed with the ONS results in an estimated 123,727 slightly injured casualties, assuming that all police forces were using an injury-based severity reporting system.
In 2019, car occupants accounted for 43% of road deaths, pedestrians 26%, motorcyclists 19% and pedal cyclists 6%.
Provisional road traffic statistics for 2019 show that there was a 0.5% increase in miles travelled on Britain's roads, after remaining similar between 2017 and 2018 with a small increase of 0.3%.
'Other things being equal, this would suggest we should not expect much change in the number of injury accidents in 2019 compared to 2018,' DfT officials said.
By mode
Heavy Goods Vehicles
Among the notable results, the report found in 2019 there were 67 goods vehicle occupant (including heavy and light goods vehicle) fatalities an increase of 22%. Goods vehicle fatalities have fluctuated between 47 and 67 in the last 10 years.
Cyclists
The pattern for pedal cycles is also notable.
'The number of pedal cyclists killed or seriously injured in Great Britain has increased by 11% between 2009 (3,689) to 2019 (4,092) (using the series adjusted for changes in severity reporting). This is partly explained by an increase in pedal cyclist traffic in Great Britain of 17% from 2008 to 2018 (2.8 to 3.3 billion vehicle miles). Overall pedal cyclist casualties decreased by 4% between 2018 and 2019.
'The overall casualty rate of 5,068 casualties per billion miles cycled is close to the motorcycling casualty rate, whereas the fatality rate of 29.4 per billion miles cycled is much closer to the pedestrian rate. Over time there has been a decrease in the risk of all modes, however, vulnerable road users are still the most at risk' the report notes.
It adds: 'Although the number of pedal cyclists killed on the roads in 2019 was slightly lower than in 2018, the 98 fatalities is very similar to the level seen since 2009. Any changes since that point are most likely to be as a result of natural variation and cannot be attributed to underlying causes.'
Car
A total of 743 car occupants were killed in 2019, down 4% (or 34 fatalities) from 777 in 2018.
As cars account for the most traffic on Great Britain roads (around 80%) the car occupant fatality rate per billion passenger miles travelled was 1.8 in 2019.
Car occupants represent 43% of all fatalities in reported road accidents in 2019. Overall car occupant casualties decreased by 5% to 89,382 in 2019 compared to 2018 and was the lowest on record representing 58% of all casualties in reported road accidents in 2019.
Motorcyclist
Fatalities decreased in 2019 compared to 2018. In total, 335 motorcyclists were killed during 2019, down 5% from 354 in 2018. However, motorcyclist fatalities have fluctuated between 319 and 365 over 2011 to 2019 with no clear trend.
Pedestrian
Casualties decreased by 3% between 2018 and 2019 to 21,836 pedestrian casualties. Pedestrians represented 14% of all casualties in 2019, increasing very slightly in each of the last five years.
Scotland
Figures for Scotland only show 168 people were killed in reported road incidents in Scotland in 2019, seven more than in 2018. This increase came despite a 12% drop in the number of accidents where people were killed or injured.
The figures show the total number of casualties fell by 10% between 2018 and 2019 (from 8,424 to 7,594), the lowest number since annual records began in 1950. The number of people seriously injured was 2,001.