Balfour Beatty has outlined its ideas for how the infrastructure sector can make positive changes after lockdown - including prioritising maintenance and upgrades works to pump prime the recovery.
In its white paper entitled Seizing the Day, the Tier One contractor's chief executive, Leo Quinn, said the sector had brought in a number of radical changes throughout lockdown 'some of which were frankly overdue'.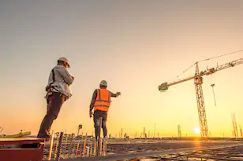 The report lists nine key areas of focus including procurement, risk, flexible working and modular construction. Among these central recommendations is the suggestion that, at least for the near future, more prioritisation should be given to upgrading and maintenance to avoid the long lead-in times and delays that can often come with major new projects.
'In the UK, new infrastructure adds only 0.5% a year to the value of existing assets. And yet it is often given significantly more prominence than maintenance when annual budgets are set,' the report states.
It argues that 'ongoing maintenance, with adequately resourced, ring-fenced funding, should be bumped up the priority list' and offers 'the best opportunity to develop and preserve the skilled workforce'.
Such maintenance schemes 'are just as successful at pump-priming local economies across the regions and local communities of the UK and often have supply chains already in place which can be quickly scaled up,' the paper says.
Where new schemes are planned in the national interest, Balfour Beatty suggests that the Government should consider establishing a body to oversee delivery in areas such as renewable energy, zero-emission transport infrastructure and large-scale housing developments.
And on the risk attached to major schemes, Balfour criticised the 'conspiracy of optimism, which means risk is underestimated - we believe by 3-5% of revenue'.
'Contractors' appetite to take on jobs where they will make little or no margin, but shoulder most of the risk, was already dwindling before COVID-19 struck. Now, for the sector to return to its former strength, this issue must be tackled head-on.'
Looking back on the lockdown, Mr Quinn said: 'We can be proud of our response as a sector. We have been forced to examine every element of how we operate and to completely reinvent the wheel in some areas, bringing in a number of radical changes – some of which were frankly overdue.
'With Boris Johnson yesterday laying out the country's "New Deal" plan – effectively leveraging our industry as an economic stimulus for the country – our sector can challenge the ways of the past and create lasting infrastructure which is sustainable, digital and innovative. And in doing so, we'll create job opportunities for countless generations, stymying what could be widespread structural unemployment issues unless we act.
'But we must be bold, and we must be resolute. We must maintain the mindset of recent months which has allowed us to adapt with agility and constantly question old habits.'
Key points and recommendations:
The Government should consider establishing a body to oversee and drive through to delivery schemes which are prioritised as being in the national interest as part of the economic recovery
New schemes can have long lead times, while vital upgrades, renewal and maintenance of existing assets can be much quicker to implement because gaining approval is usually much less complicated
Those commissioning infrastructure and the industry itself must use this crisis to adopt at scale prefabricated, offsite, modular construction and other modern methods of construction (MMC). The Government and its agencies should all implement a presumption in favour of these approaches as a default, to accelerate change.
Modernising working practices should include remote working, flexible working patterns, and a greater commitment to staff working three or four days a week and to job sharing. Customers must ensure that there is enough flex in the way contracts are drafted to support different working styles, something which is not currently always the case.
Construction can modernise by attracting highly-skilled engineers, particularly with experience in automation, from other harder hit sectors like aviation and automotive industries.
Businesses across the sector ideally should commit to having 5% of their workforce in earn and learn positions (including apprentices, sponsored students and graduates on formalised training schemes) and joining the employer-led organisation The 5% Club.
Build on recent closer co-operation between industry and government through regular, open dialogue between a wide representation of the industry and Government.
There will be a temptation towards driving costs down but ultimately that is unsustainable and must be resisted. The hidden cost is that it damages the sector over the long-term and hampers its role as a job-creator.
The issue of risk must be addressed – both by the industry's key customers and by the sector itself. The brunt of the risk should be borne by the party best able to control and manage it.
In terms of remote working, Balfour Beatty has already announced that it is developing a package of measures called A Great Place to Work.
The programme includes 'increased support for flexible ways of working – not just working from home, but more support for different work patterns, job sharing and agile working': it also allows staff to buy back more annual leave to support those who have caring responsibilities or who just want more time off.