The one-off cost of the total maintenance backlog for council-managed road bridges in Great Britain has hit £6.7bn, according to the annual RAC Foundation and ADEPT survey.
This is an increase of of around a third from the 2016/2017 figure of £5bn and due to budget restrictions only around 10% of these substandard bridges will have the necessary work carried out on them over the next five years.
The 200 councils across England Wales and Scotland that responded to the survey - out of a total 207 - manage 71,652 bridges, of which 3,177 (4.4% of the total) are categorised as 'substandard'.
These councils said they would ideally want to bring 2,026 (64%) of the current 3,177 back up to full carrying capacity. However, budget restrictions mean they anticipate only 343 of these will have the necessary work carried out on them within the next five years.
This is on top of the roughly £9.3bn backlog for general road repairs.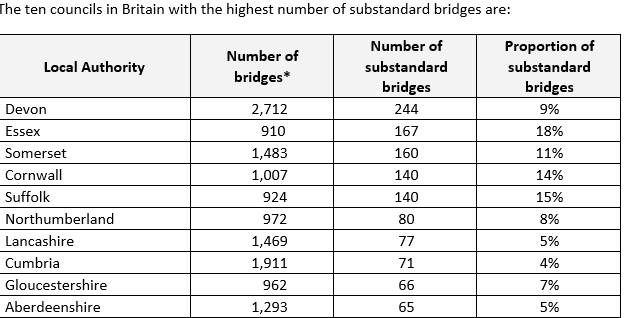 Analysis by the RAC Foundation of data for the 2017-18 financial year found an estimated £6.7bn is needed to carry out all the work that would be required on the tens of thousands of local authority road bridges - defined as structures over 1.5m in span).
This is up from £5bn a year earlier (2016-17), the RAC Foundation said.
Substandard is defined as being unable to carry the heaviest vehicles now seen on our roads, including lorries of up to 44 tonnes.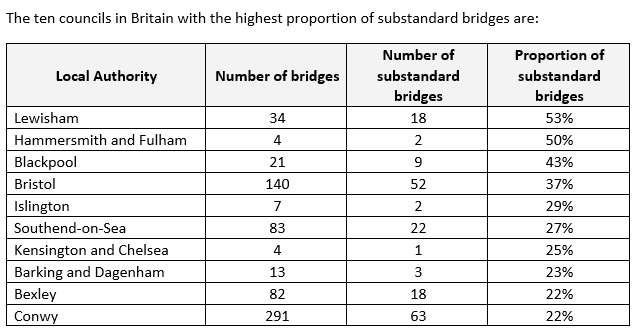 Many of the substandard bridges are subject to weight restrictions. Others will be under programmes of increased monitoring or even managed decline.
The proportion (4.4%) of substandard bridges is in line with that reported in 2016-17 (4.6% - 3,441 out of 74,005 bridges – based on data from 204 local authorities).
However it is slightly down from last January's figure, which found 3,441 our of roughly 74,000 structures over 1.5m in span were substandard.
The survey of local highways authorities was carried out by the RAC Foundation with the help of the National Bridges Group of ADEPT (the Association of Directors of Environment, Economics, Planning and Transportation).
Steve Gooding, director of the RAC Foundation, said: 'While we should draw some comfort from the good knowledge highway authorities have about the strength and structural integrity of their bridges, the fact is that many thousands are subject to enhanced monitoring, speed and weight restrictions, and the cost of bringing them up to scratch is continuing to mount.
'Ancient bridges on rural back roads might not be the highest priority for repair, but the risk we run is that sub-standard structures on some roads result in heavier vehicles having to make lengthy detours.'
While no local authority manages structures directly technically comparable with the bridge that collapsed in Genoa in August 2018, they do have are a number of so-called post-tensioned (PT) bridges with hidden cables.
These PT bridges require intrusive inspections (Post Tensioned Special Inspections or PTSIs) that can cost £100,000.
Kevin Dentith, chair of the ADEPT National Bridges Group, said: 'There is a serious issue around so-called post-tensioned bridges. Whilst these are not directly comparable in technical terms to the bridge that collapsed in Genoa they do require intrusive examination, something many of them will never have had because of a lack of funding, expertise or both.

'Hopefully some of the Department for Transport's £200m Challenge Fund set aside for 2019-21 will be used to prioritise this work. We should find out more about how the money will be allocated early in the new year.'
Despite the financial pressures, annual expenditure by councils on maintaining bridges rose from an estimated £367m in 2016-17 to £598m in 2017-18.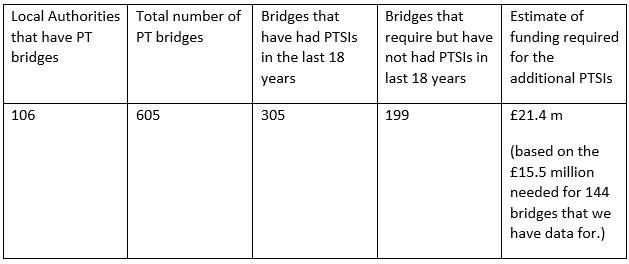 Cllr Martin Tett, transport spokesman for the Local Government Association (LGA), said: 'This survey underlines the chronic need for more investment in existing local roads.
'The LGA has been calling on the Government to annually reinvest a portion of existing fuel duty into local road maintenance which would generate much needed funding for councils to spend on addressing the £9.3bn roads repair backlog which would give all road users better roads that are safer and more resilient to constant use.'