Drivers across South West Scotland are being advised to look out for deer wandering onto trunk roads and motorways, particularly during May.
Scotland TranServ, which provides a management and maintenance services on behalf of Transport Scotland, said vehicle accidents involving deer peak at this time of year, as young deer disperse and increasingly cross major roads to look for their own territories.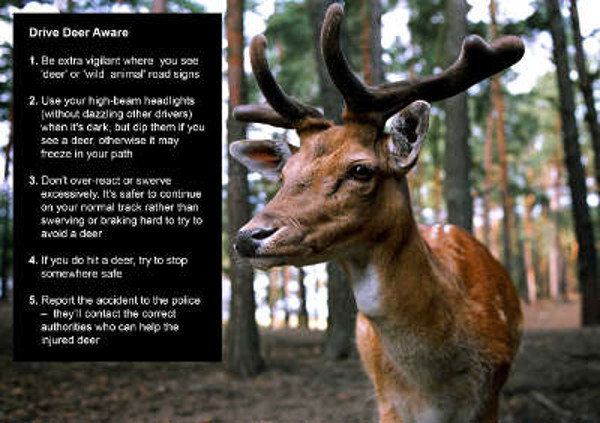 It has issued five driving tips (see picture), including advising drivers not to over-react or swerve excessively.
Dr Jochen Langbein who oversees the Deer Vehicle Collisions Project, said: 'Many people think most accidents with deer and vehicles occur on more remote Highland roads, but in Scotland at least 40% occur on A-class trunk roads or motorways, including across much of South West Scotland's road network.'
Scotland TransServe said that while there is no system for the central collation of road traffic accidents involving deer in the UK, figures collated from a number of studies suggest that as many as 70,000 deer are killed in vehicle strikes every year across Britain as a whole, with up to 1,000 injuries to vehicle passengers.
It is estimated that in Scotland the figure could be as high as 9,000 collisions per year, resulting in anywhere between 50 and 100 human injuries, with the total cost of material damage and injury thought to be around £9.5m.
Scotland TransServe has identified hot spots on the M77 at Pollok Estate, the M74 between Hamilton and Douglas, the A77 between Ayr and Kilmarnock and wooded areas of the A75.
Andy Fraser, its operating company representative, said: 'We would advise all drivers to keep an eye out for deer straying onto our trunk roads particularly at this time of year. Because they are young, they are less aware of our busy roads. Stay vigilant as these young deer can appear quite suddenly out of the fields and woodland that border much of the region's trunk road network.'