Disability campaigner Lord Holmes of Richmond (pictured below) argues that it is not enough to build back better; we must build back together with accessibility at the heart of our infrastructure-led recovery.
COVID is a killer. An invisible and indiscriminate infector, but a discriminating deliverer of death.
My heart goes out to everyone affected by the virus, to those who have lost loved ones, those who have come through infection and to those frontline workers who continue to risk their lives for us every single day. We owe so many an enduring debt of gratitude.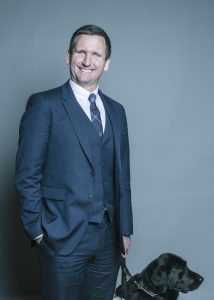 As we struggle to make sense of it all, there is much chat about building back better; better still, why not aim at building back together? Vital for every reason, not least that scientists speculate the COVID risk could remain until 2025, with social distancing a reality to 2022.
There is a strange perception with some that accessibility and inclusion is a drain on economic activity, a pain for planners, a tick box tedium, something that cannot be allowed to stifle or slow attempts to address the crisis or something simply pass over for want of legal challenge.
The reality though is that inclusion drives innovation and promotes economic activity. It is only an irritant if not incorporated from the start. When accessibility and inclusion are considered retrospectively – as a post-build retrofit – then of course it will be costly.
So, as we shoot at an infrastructure-led recovery with highways and the built environment critical to this, what are the implications for inclusion? What are the opportunities for optimal outcomes?
The Business and Planning Act could be the first significant test of 'build back together'.
The Bill was introduced in the House of Commons on 25th June and includes measures to make it easier for premises in England serving food and drink such as bars, restaurants and pubs to seat and serve customers outdoors through temporary changes to planning procedures and alcohol licensing.
The changes are described as important to aid the financial recovery of businesses. The measures extend to 30 September 2021 and were introduced the day the Bill became law, on 22nd July 2020.
When the Bill arrived in the Lords, earlier this month, it came with significant shortcomings, not least, from an accessibility perspective. The Bill enabled the rapid expansion of licences for outdoor dining, which can be difficult to navigate for disabled pedestrians, including blind and partially sighted people, wheelchair users and indeed those with small children, buggies, suitcases… need I expand?
With pavements full of furniture, partially sighted people, among others, will be forced to walk in the road, change their route, avoid travelling independently, or even stay at home altogether.
Changes to infrastructure as a result of social distancing have already hit blind and partially sighted people disproportionately hard, with two-thirds of respondents to an RNIB survey reporting that they have felt less independent since social distancing was introduced. This new law will make the situation even worse.
Speaking in the Lords before the Bill was passed, I said: 'It is vital that we get our economy moving again. But this should not in any sense come at the expense of the exclusion of disabled people from our high streets and their local communities, this exclusion utterly avoidable.'
'Economic growth and equality are not mutually exclusive, or indeed diametrically opposed, they absolutely walk hand in hand. It makes legal sense, moral sense, it makes great business sense.'
Although I would have preferred them to go further, we were able to secure a meaningful concession from the Government, which goes some way to addressing our concerns.
The Government added an amendment to clause three, which states that in 'dealing with furniture put on a highway by a licence-holder then the authority must have regard in particular to (a) the needs of disabled people, and
(b) the recommended distances required for access by disabled people as set out in guidance issued by the Secretary of State'.
I urge anyone who comes across a pavement strewn with street furniture, adversely impacting access, to contact their local authority immediately to have the situation rectified for the benefit of all residents and users of the area. And do feel free to let me know also, holmesc@parliament.uk.
Shared space can't be allowed to slip back into our communities because of COVID
In 2015 I conducted a survey into peoples experiences of so-called 'shared space': 'Accidents by Design.' Shared space is a design approach that removes kerbs and crossings and encourages pedestrians and vehicles to 'share' the space. Obviously, 'sharing' isn't easy when you have vastly different resources. When a bus and a blind person, or a toddler and a taxi, collide – they are not exposed to the same risk of harm.
Over several years I conducted research, recorded television interviews, published articles, gave evidence to select committees, raised questions in Parliament, contributed to a technical report on shared space by the Chartered Institution of Highway Engineers and was delighted when finally, in 2018, the Department for Transport announced an end to shared space in the long awaited Inclusive Transport Strategy.
However, there is a danger in taking progress for granted because however hard won these battles for improved accessibility and safer streets, there are no guarantees that such progress will not be undone and as we contemplate a flurry of public realm developments to encourage cycling and walking we must be sure that inclusion and accessibility remain at the heart.
Open bus data, but what data?
We now have the Regulations laid for the bus open data service, excellently called BODS. Though, while it is clear that, here comes BOD, sadly, he can't be joined by any of his friends with any access requirements. What a difference open data on accessibility would make, a small change with a significant positive outcome. Except, we're not doing it.
I questioned the minister over a year ago on this and was told, the time isn't right. I asked again a couple of weeks ago, seems time still isn't right. The only question really is, when is it the right time to effectively exclude so many from their local bus services and their local communities for want of straightforward information, that is already in existence, which simply needs collecting and uploading - this isn't difficult, shouldn't we do it?
E-scooters, a very bad idea
In another measure described as COVID related, from 30th June 2020, e-scooters became legal on UK roads. I would argue that existing legislation, which makes rentable e-scooters illegal in the UK, should be left in place to protect the safety of the public and current trials (up to 50 local authorities have expressed an interest in taking part in the trials) for rentable e-scooter withdrawn.
My concerns are echoed by PACTS (Parliamentary Advisory Council for Transport Safety) in their submission to the DfT's consultation on rentable e-scooters.
It would seem sensible to not add to the work of the NHS with thousands of injuries arising from an e-scooter pandemic on our streets and pavements. It's also difficult to see how the introduction of e-scooters will assist with the obesity epidemic endemic across Britain.
Equality Act cases pending
I have spoken to a lawyer who specialises in equality law and discovered that he has had over 1,000 potential discrimination cases related to COVID changes.
These include loss of blue badge parking spaces at supermarkets and other supermarket access issues, lack of accessible information, an increase in 'floating' bus stops, other 'temporary' changes to the public realm and the Downing St daily briefing not being signed for hearing impaired viewers.
COVID is and will continue to be a killer. We need to do everything we can to defeat it. However, nothing is conscionable if done at the expense of some for the benefit of the supposed majority. Any change, to the public highway, public realm, buildings, services is either predicated on inclusive design or it is built on fast sinking slurry. Nothing can be done which excludes, even if unconsidered, under the 'cover of COVID'.
We can build back together, we must build back together, we have one society, one economy and one unique opportunity to build back together. We owe it to all those not able to build back with us.