A host of industry names are showing interest in a Private Finance Initiative (PFI) concession to maintain roads in Birmingham, which could be worth at least £1.2bn.
Contractors including Balfour Beatty Carnell, Colas, Kier and Tarmac and consultants Arup and Arcadis are among the companies that have signed up to attend an open day on January 18, when the council will outline plans for the deal.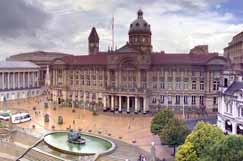 The council originally signed a 25-year, £2.7bn highways management and maintenance contract with Amey in 2010 but the two sides became bogged down in a performance dispute. The deal was terminated in March 2020 with Amey paying £215m to terminate its involvement and Kier stepping in as interim contractor.
Since then, the council and Birmingham Highways Limited – the special purpose vehicle owned by Equitix and PIP Infrastructure Investments – have been working to restructure the contract.
Kevin Hicks, the council's assistant director for highways and infrastructure, said: 'Extensive work has been put in over the last two years by all of the project parties and with the close support of the DfT [Department for Transport] in order to establish a workable and deliverable contract framework.
'Many lessons have been learned from the first 10 years of the project and with the insight we have gained from the industry through previous engagement exercises we believe that we have an attractive prospect for the market. As a result, we are extremely encouraged and excited by the interest this huge opportunity is generating within the industry.'
The tendering process is due to begin in February and is expected to take nine months. The value of the deal is unconfirmed, but the new contractor will be responsible for the remaining 12 years of the original deal.
In an earlier prior information notice, the council and BHL said it is seeking a contractor to take on a PFI concession from August 2023 until June 2035 that would be worth £1.2bn.
'We are confident that we can create a level playing field for all interested parties, and look forward to presenting our contract to the industry at the supplier day,' said Natasha Rouse CEO of Birmingham Highways Limited.
The contract will cover 2,500-km of highways and 5,000-km of footways, three tunnels, 846 structures, 94,000 street lighting columns, 76,000 trees and the city's traffic control system.