The highways monitor for the English strategic road network (SRN) does not have a single member of staff whose job is focused solely on road safety, Highways can reveal.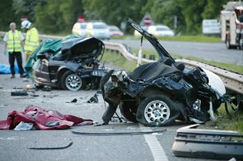 The Office of Rail and Road's (ORR) entire highways team is the full-time equivalent (FTE) of 16.6 people (17 headcount) and its monitoring of Highways England's SRN is funded in the form of a £2.4m grant from the Department for Transport – around 7% of its total budget.
Highways can reveal that responsibility for all areas of ORR's highways monitoring is shared across this team of 17 and no staff member has a sole focus on monitoring safety.
Industry insiders told Highways this means the actual FTE specifically for safety is likely to be less than one person.
This can be contrasted with the ORR's rail operations, which have a headcount of 117 and an FTE of 112.45, although a direct comparison would be unfair as the ORR has a very different role in railways.
Its rail team has a safety directorate that enforces health and safety law as the ORR is the safety regulator for the industry, whereas the SRN safety responsibility is split between the ORR, the transport secretary and Highways England.
Latest provisional figures show 209 people died on the SRN in 2019. This represents a cut of 16.4% on the previous year's figure but follows four consecutive rises in fatalities on the network, from 2014 (211 fatalities) to 2018 (250).
Official figures from 2018 show that 1,987 people were killed or seriously injured on the SRN that year.
While the recent and shocking Stonehaven tragedy reminded the rail sector that fatal incidents can still happen on the network, death or serious injuries to rail passengers in the UK is an extremely rare event, even thought to have been consigned to the past.
An ORR spokesperson said: 'Safety is an important aspect of everyone's job and we are dedicated to monitoring and report Highways England's safety performance. That said, we are not the safety regulator.
'Our highways and our rail functions are not comparable due to the difference in roles and regulatory powers. There's no doubt the first road period has been a time of growth and learning for the ORR. We have embraced our new role as Highways England's monitor and we take pride that we have incentivised Highways England to deliver for road users.'
Executive director of the Parliamentary Advisory Council for Transport Safety (PACTS), David Davies, said he knew of one main person working on road safety monitoring in the ORR, but that they had other responsibilities as well.
'We would like the ORR to have more capacity in the area of road safety and there is a clear contrast with the rail expertise. There is a mismatch between the claims that safety is the number one priority and what is allocated to ORR and Highways England for this area,' he said.
Note: This article has been corrected after it originally quoted an incorrect figure for total KSIs in 2018 on the SRN.