Road Mole is an award-winning pothole and ironworks repair system with a difference - its repairs are circular.
Making waves in the market after providing repairs that have lasted for the eight years of its project development and trial period, the Road Mole company argue that circular is better when it comes to right first time defect repairs.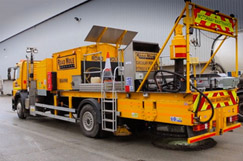 'Traditional square patch repair methods create weak areas in the corners of the repair that allow water ingress,' a Road Mole spokesperson said.
'Our system completely removes the pothole and damaged surrounding area. We provide a clean-cut circular shape that allows for better compaction of asphalt. Circular and rounded repairs have been used in the aviation and shipping industries for many years, for example to repair wing damage and in the creation of portholes.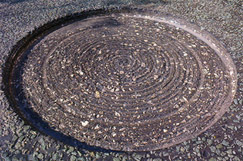 'This is due to the scientifically proven strength of the circular shape not having corners that allow water ingress and thus keep their integrity. We've developed this idea, in essence going from "portholes to potholes".'
The system removes the damaged surrounding area that is then filled from an on-board hot-box. The innovation has led to an amendment to Clause 946 by Highways England and AECOM to allow circular repairs on the UK road networks.
'Our technology has been the focus of study by Engineers and Scientists at Liverpool John Moores University Low Carbon Eco-Innovatory Hub, with the concluding report stating our methods are significantly more cost -effective and sustainable than traditional repairs,' the company said.
The system also uses automated and enclosed machinery to carry out the repairs, so it can protect operators and reduces the risk of work-related injuries and ill-health.