Highways England plans to rewrite the Manual of Contract Documents for Highway Works (MCHW) by the end of the next Road Investment Strategy.
The move will follow the redrafting and digitisation of the Design Manual for Roads and Bridges (DMRB), which the Government-owned company says is on schedule for completion next year, but is likely to be the last of its kind - followed by a move to a more rules-based, computer-led system.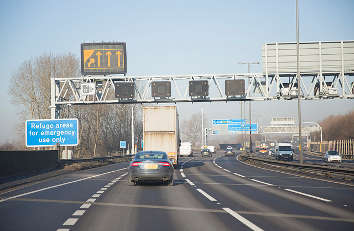 The MCHW contains the instructions for tendering and typical contract documentation for works to trunk roads across the UK and includes the Specification for Highways Works.
Annette Pass, head of innovation at Highways England, gave a keynote speech at the Road Surface Treatments Association annual conference, which addressed the subject as well as discussing new road designs.
'We are digitising our design model. You may be aware that we are rewriting the Design Manual for Roads and Bridges during this road investment period and in the next road investment period we will be doing the same to the MCHW as well,' she said.
'But we are not only rewriting [the DMRB]. What we are going to do is digitise that.'
Ms Pass acknowledged that among the many challenges for Highways England as it takes advantage of technological innovation is the fact that not all of its customers are confident with new technology and that there will be a mixed fleet on its network for some time.
An example of this is the move to 'naked roads' where information is communicated to connected vehicles rather than visually through roadside and overhead signs.
She said: 'And that's a real challenge because when do you decide that you are not going to put up a gantry any more? Which road scheme is it where you are going to say, right, no gantries, no signs, all the information is going to be sent to the dashboard of the car? That's a brave decision to take and one of the things we are going to have to manage is that access to technology.'
Highways England's Smart Motorway Programme continues to involve the addition of large pieces of infrastructure to the network, such as the installation of a 'superspan' gantry 40 metres long and weighing around 46 tonnes across a stretch of the M6, as reported on Highways last week.
Ms Pass also said that Highways England is carrying out research into spectroscopic analysis to determine bitumen composition, 'which will help us detect when the surface is going to fail'.