The transport watchdog has called on Highways England to do more to address the safety fears of cyclists, pedestrians and horseriders.
Transport Focus said its detailed research measures for the first time the real impact of 'inadequate signage, unsuitable design and poor maintenance' on cyclists, walkers and equestrians when they travel along, beside or have to cross the strategic road network (SRN).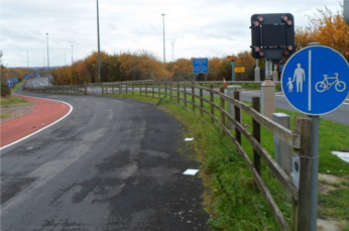 Chief executive Anthony Smith said: 'Cyclists, pedestrians and equestrians deserve to feel safe on their journeys, so it should be no surprise there is a clear relationship between how safe these road users feel and how satisfied they are with travelling along, over or beside major roads and motorways.
'We have developed a clear measure of satisfaction among cyclists and pedestrians (alongside qualitative information about issues that affect them and equestrians).
'We are using the results of this research to press Highways England to upgrade roads to better meet the needs of these users. This should include more distance between them and fast-moving traffic as well as ensuring paths and crossing points have better surfaces and lighting.'
The research, which measured satisfaction with journeys on the SRN in the North West and East Midlands, found that
Cyclists are significantly less likely than pedestrians to feel safe on the part of their journey that interacts with the network – due to the proximity and speed of the traffic that is nearby. For pedestrians, personal security along these routes is a particular concern – this group will notice when a location is secluded.
More than three-quarters of cyclists and pedestrians in each of the areas covered by this research are satisfied with that part of their journey made on, alongside, or across the SRN
Highways England's head of road safety, Richard Leonard, said: 'The survey presents a new and innovative way of capturing satisfaction among cyclists, pedestrians and equestrians, all important users of our network.
'It's good to see more than three quarters of people surveyed in the two regions were satisfied, and less than 10% dissatisfied. As the research develops we will review the findings, along with our own research, to build on the extensive work we are already doing to provide safe roads for all users.'
Under the current Road Investment Strategy, Highways England has a £250m designated fund for cycling, safety and integration, with £100m specifically for cycling. The integration aspect of the fund includes work to connect the strategic road network to ports.
Last year Highways England said it planned to develop an interactive map in 2018 to show the location of all schemes delivered under its designated funds.
However, it told Highways this week that the project is still at the planning stage.