Highways England has published its long-awaited Delivery Plan for the £27bn 2020-2025 Road Investment Strategy (RIS 2), which includes a pledge to open 52 schemes and start work on 12 new major road projects.
The government-owned company has also published its Strategic Business Plan.
The foreword to the Delivery Plan includes a number of commitments, including getting motorways ready for digital vehicles and delivering £2.23bn of efficiencies, but has no commitment in relation to safety other than to invest in it and work with the supply chain to improve it.
The plan also includes a performance framework with a set of Key Performance Indicators (KPIs), most of which have specific outcomes, and performance indicators (PIs) without defined targets.
KPIs include just 82% road user satisfaction in the first two years (compared to 90% in RIS1) and a further fall in serious casualties on the network.
Reflecting the RIS 2 document, the performance indidators include the percentage of traffic using roads rated three star or above according to the iRAP methodology, but with no target.

The performance framework also gives start and opening dates for enhancement schemes, by region.
The A303 Amesbury to Berwick Down is slated to begin in the second quarter of 2022-23 and be open in the next Road Period (2025-30). This appears to be a further delay to the scheme, which is currently awaiting planning approval from transport secretary Grant Shapps.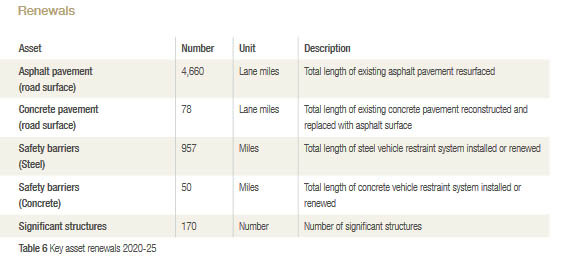 The performance framework also includes quantitative and numerical targets for renewals work, including 4,660 lane miles of existing asphalt pavement resurfaced and 78 lane miles of concrete pavement.
Other annexes to the document include a plan for spending £5bn in year 1 (ie the current financial year) and a pipeline of future schemes.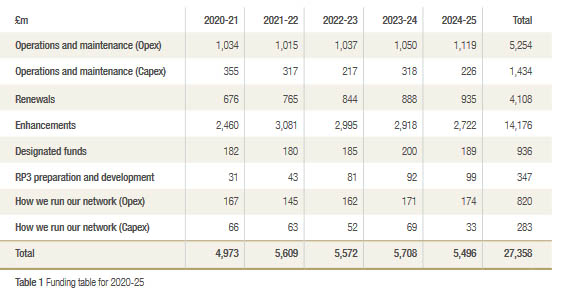 In the foreword to the document, Highways England chief executive Jim O'Sullivan wrote: 'Over the next five years, we will work hard to meet the new targets we have been set, maximising the value of every pound that we spend. We will deliver the best possible outcome for the taxpayer, and enable safer, smoother and more reliable journeys.
'We will help create jobs and generate economic benefits for the whole country, at the same time as maintaining our roads for today's drivers. We will reduce our own carbon emissions, and support government's ambition to achieve net zero carbon emissions by 2050.'
Pledges for 2020-25:
open 52 schemes, many of which will improve access to ports and airports
start works on 12 new major road projects
ensure that all parts of the country benefit from our work
get motorways ready for digital vehicles
commit to no net-loss of biodiversity across our activities
provide a benefit of £27bn to customers through our enhancement programme
save our customers over 20 million vehicle hours by tackling congestion
help 7,500 households through noise mitigation schemes
sustain up to 64,000 jobs in the construction industry
deliver £2.23bn of efficiencies to the taxpayer