Highways England has apologised for the closure of the westbound lanes of the M48 Severn Bridge on Saturday but insisted that it had no choice.
The government-owned company said that 'an unprecedented level' of staff illness had meant that it had to close the tollbooths on the Wales-bound side of the original bridge between approximately 5am and 2pm on Saturday, although the eastbound lanes remained open.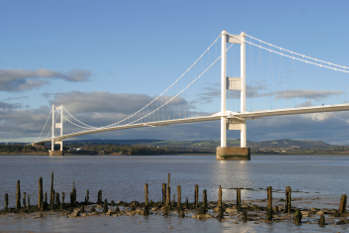 Westbound traffic was diverted to the M4 Prince of Wales Bridge.
Following heavy criticism on social media, Highways England insisted that it was not able to suspend tolls on the bridge, which are only collected westbound and are due to be abolished at the end of this year. It said that by law tolls can only be suspended in extreme circumstances for public safety reasons and not because of congestion at the toll plaza.
Westbound traffic was diverted to the M4 Prince of Wales Bridge.
Why did you choose to inconvenience 17000 drivers instead of leaving the tolls open. How mean can you get. I'm sure the tolls have already paid for the bridge long ago.

— Jason King Young (@jkydesign) August 4, 2018
Rob Llewellyn, head of operations at the Severn Bridges said: 'We apologise for any inconvenience that the closure of the M48 Old Severn Bridge may have caused drivers on Saturday morning.
'Due to an unprecedented level of illness affecting the team, including that of a safety critical role, we were unable to adequately staff the toll plaza and were therefore not able to maintain adequate levels of safety for drivers and our staff.
'We transferred staff to the Prince of Wales Bridge to ensure that the toll plaza was fully operational to accommodate additional traffic and ensure a smooth flow of traffic across the bridge and we are taking urgent steps to ensure this issue does not reoccur in the future.'
The crossings returned to public ownership under the control of Highways England in January this year.