Highways England is delivering a giant reedbed filter system to help return vanished water lillies to a nature reserve and Site of Special Scientific Interest (SSSI).
The scheme at Stover Lake in Devon - where white-water lillies have not been seen since 2007 - is designed to capture and filter water runoff from the A38, nearby industrial sites and farmland.
Around 3,800 square metres of reedbed will be planted upstream to act as a natural barrier and filter pollutants as well as provide varied habitat for a range of wildlife.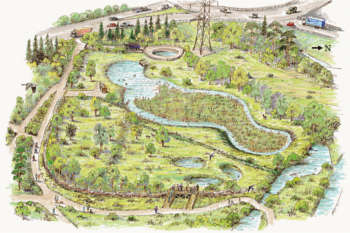 Highways England is working with Stover Country Park and Devon County Council to prevent pollutants such as oil and metal residue being carried into the lake. The scheme is also supported by Natural England.
Highways England said that work at the site will start in late November and is expected to continue for up to seven months. To create the reed bed, 6,000 tonnes of soil will be removed, and four varieties of reed native to the area will be planted.
Some of the existing on road drainage will be modified to connect with the reed beds which will involve an expected eight nights of closures on the A38 or the roundabout slip roads.
Highways England project manager Darren Painter said: 'The twin reedbed system starts by providing a physical barrier to polluted water, then following absorption, microbes work to break down even more pollutants resulting in clearer water which will help the lake to regenerate and flourish.
'It is hoped that by reducing pollution, white-water lilies, not seen at the lake since 2007, will once again cover the lake surface providing suitable habitat for a variety of dragonflies and damselflies.'