The value of the Department for Transport's (DfT) assets increased by £45bn last year as higher inflation rates impacted on the cost of modern equivalent replacements for infrastructure assets.
In its annual report for 2021/22, the DfT says that its assets were worth £544bn at 31 March, an increase of £45bn on the prior year.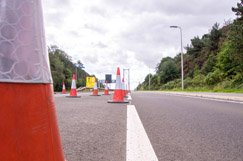 The assets are primarily the Great Britain railway network, valued at £373bn, and England's strategic road network, valued at £146bn. The increase came from £15bn of additions to the assets and £39bn of revaluation gains, offset by £8bn of depreciation charges.
'These networked assets are valued using a Depreciated Replacement Cost valuation approach as required under HM Treasury financial reporting rules, representing the newbuild cost of a modern equivalent asset which is then depreciated to its current condition,' the annual report explains.
'The revaluation gains primarily represent inflationary increases in the estimated cost of building a modern equivalent infrastructure asset.'
Sarah Sheen, technical manager at the Chartered Institute of Public Finance and Accountancy, told Highways: 'The basis of reporting highways infrastructure assets in local authorities' accounts is using a modified form of depreciated historical cost.
'Highways infrastructure assets would be impacted by inflationary pressures as the increased cost of new expenditure on their highways networks increases historical cost. However, local authorities are not required to measure their infrastructure assets at valuation in the same way as other parts of the public sector, so revaluation issues do not arise.'
Mark Kemp, president of ADEPT said: 'ADEPT members are extremely concerned about the rising cost of maintaining local roads' assets which is compounded by increasing energy prices and materials shortages.
'One of the big challenges for local authorities is that we are carrying the inflation risk on all our national government funded schemes and so are having to find millions across the country to address that as inflation has hit us by between 15 and 20%. On top of already straightened budgets, we are in a very difficult position which is impacting on programmes across the country.'
The road network is the biggest physical asset the public sector owns, and the English local network alone is valued at almost half a trillion pounds.