Aggregate Industries has launched what is believed to be an industry first - a new extendable chip spreader - that it claims could redefine health and safety standards across the highways sector.
The company's Contracting Division developed the new KS12-16 ExtendaChip Spreader in conjunction with engineering firm Pavemac to make the chip spreading process much safer, more reliable and efficient.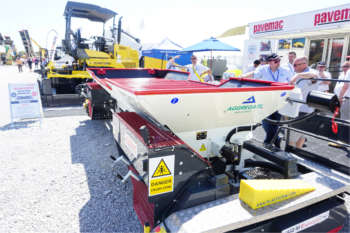 The chipper is designed to be uniquely extendable with a range of 12ft to 16ft wide carriageways, thus removing the need for multiple chippers on site and speeding up chip spreading operations.
It is due to be trialled on the Hampshire Highways Service contract from August-September this year. With the results collated and adjustments made, the extendable chipper will be available to the wider industry.
Other features include;
hydraulically driven tracks instead of wheels, eradicating the risk of runaways
improved hopper design so 'load out' height is reduced by 50% to provide 360 degree visibility and stability
dashboard controlled automated calibration, that reduces manual adjustment requirements by the operator
basic telemetry data to show idle time and hours worked.
The innovation came after a serious incident in June 2016 involving a chipper and supply chain operative, that resulted in a fractured ankle.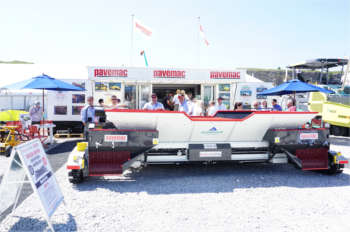 Paddy Murphy, managing director of contracting services at Aggregate Industries, said: 'To prevent such incidents from ever happening again, we've spent the last 18 months conducting root-cause analysis of chipper incidents and operations to identify ways that we can reduce or eradicate the safety risks to our employees. The results consistently highlighted the need to completely overhaul the chipper design.
'By truly engaging; and collaboratively sharing knowledge and expertise with our supply chain partners, we've demonstrated the extraordinary things that can be achieved. We're incredibly proud to have successfully designed out the majority of the health and safety risks that are associated with chipper operations. The KS12-16 ExtendaChip Spreader has set the new benchmark in best practice and will no doubt significantly raise standards across the industry for years to come.
'I'd like to thank all those involved in the project including our team at the National Plant Department, Southern Regional Employees & Safety Department, and special thanks to Craig Flowers and Ken Barrett (Aggregate Industries); John Finn and Keith Dearing (Pavemac) for their efforts in delivering this achievement.'