Johnston Sweepers has launched a brand new winter equipment rental arm to its business in time for Cold Comfort 2019, this week.
Johnston, which is wholly owned by Bucher Municipal, is in the process of building 30 Bucher Spreaders to be ready for the coming winter season and available for rental throughout the UK.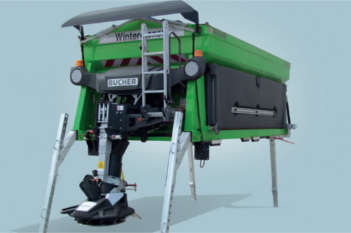 The company said the spreaders, which are mounted at Johnston's Dorking-based manufacturing plant, can help save up to 20% salt usage in comparison to others through features over and above the UK standard.
The fleet includes what is thought to be the first highway electric spreaders to be supplied in the UK - the Bucher Electra Spreader.
Graham Howlett, UK sales and marketing manager,states: 'The Bucher rental fleet allows authorities to test the spreaders before committing to ordering or hiring on an annual basis, and councils don't have to worry about equipment compliance, summer maintenance or off-season storage, as this is all covered by Johnston.
'Renting directly from the manufacturer has lots of advantages including optimal product capability, fully trained and equipped engineers, online parts support, competitive rates and full fleet management, offering improved productivity.'
Bucher manufacturers a wide range of spreaders from 1 cubic metre to 14 cubic metre hopper capacities and each of the rental spreaders come with 'back to black' snow ploughs for improved snow clearing performance.