Commissioners brought in to rescue Liverpool City Council's failing services have uncovered further issues with its troubled highways department.
Cultural issues characterised 'by weak forward planning, a siloed approach, a lack of staff appraisals and inadequate project/contract control' run deep within the service and new staff are being brought in to bolster its capacity.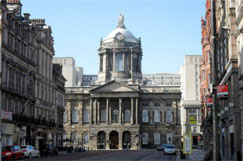 Recent whistle-blowing also raised concerns that 'pockets of inappropriate behaviours still exist' and more staff events and 1:1s will be held to give workers 'the confidence to expose any further inappropriate behaviours'.
The appointment of commissioners led by former chief constable Mike Cunningham came after an independent report uncovered 'multiple serious failures' by the council in complying with its Best Value duty, with highways procurement a particular area of concern.
In their first report since overseeing improvement plans, the commissioners said that 'additional interim capacity and capability has been agreed' for the highways department.
The council's Improvement Delivery Plan sets out 21 immediate actions linked to highways service improvements.
'There was limited capacity and capability within the Highways Service and key enabling services to make the changes outlined in the Improvement Delivery Plan, coupled with the setting of unrealistic timescales,' the report states.
Following discussions with the Business Partners for HR, Finance, Legal and Procurement, the commissioners raised concerns about the capacity of internal enabling services available to highways and the council has started recruitment to strengthen these support teams. This comes after the appointment of an interim chief highways officer (ICHO) in May 2021.
The report also states that work is in hand 'to establish clarity on desired outcomes' for service users in Liverpool.
A full-service review will be carried out by the ICHO next year following the council's senior management restructure, which is set to be concluded shortly.
An interim service structure has been put in place in the meantime designed to strengthen senior leadership capacity and capability, bring teams more in line with best practice, and create a small 'task & finish' cross-cutting improvement team.
'The more challenging improvement needed is to the culture within the service. This is characterised by weak forward planning, a siloed approach, a lack of staff appraisals and inadequate project/contract control. These are symptomatic of the poor leadership of the service in the recent past,' the report states.
'The departure of senior officers within regeneration, planning and highways, combined with the appointment of the ICHO and additional interim divisional managers, provide opportunities for change.'
As previously identified, Liverpool had no business plan for the highways department for 2021/22, which is needed to bring together the service's priorities, budgets, performance targets and customer standards for the benefit of staff, councillors and users.
The report adds that an in-year business plan is currently in draft: 'We expect that a full business plan will be developed for 2022/23. A full review of highways capital projects is underway to ensure that priorities are correctly identified; risks are properly assessed with appropriate mitigation plans developed; costs are accurately assessed; and suitable technical advice is available when required.'