One of England's largest technical bodies covering highways has outlined five steps to eliminating most of the nation's pothole backlog in the space of five years in a submission to MPs.
Responding to the Transport Select Committee's inquiry into local roads, the Local Government Technical Advisers Group (TAG) provided a list of its five top priorities for governance and funding reform within a balanced assessment of the issues facing local highways authorities.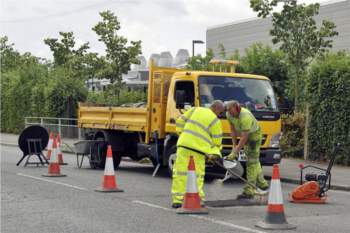 The wish list included a better understanding of the state of local roads, 10-year funding settlements, the combining of revenue and capital funds - a distinction that has long been decried in the sector - the rolling up of different funding streams into a single pot and a 'national condition survey' to provide a common baseline for condition analysis.
In an opening statement, TAG president John Lamb and the chair of its National Transport Committee, Dominic Proud, said: 'It cannot be overstated that Britain never used to have such scale of defects and LGTAG believes that over the course of a single Parliament the majority of the backlog can be removed.
'It must however be stressed that this is not a typical approach that simply seeks to solely demand more money. Indeed there are some deep seated issues in how funding arrives locally, and how local misinterpretation of "Capital" and "Revenue" sadly creates divergent approaches to fixing local roads.'
The submission gives a cogent run-down of recent local roads finance history and concludes: 'There is now a plethora of other funds although most of these not aimed at highways maintenance. These are sporadic and short lived in nature and make the funding streams for Local Highway Authorities complex to understand.
'Whilst there has been various funding streams announced... there has been relatively no change in the amount of funding available and allocated to highways on a formula basis for highways maintenance or integrated transport since 2011 with funding on average around £1.2bn annually.'
TAG priorities in full:
Priority one - Better understand the pothole backlog
The AIA 'ALARM survey' paints bleak and stark headlines that rightly give ministers cause for concern. However, it is essential that we recognise that planned works and committed funds already make significant inroads to that backlog but new thinking is required to close the gap.
The current annual DfT spend of about a £1bn is matched with at least £500m by councils on reactive repairs. Over five years there is failure to leverage that £7.5Bn but through a new narrative and approach the ALARM 'gap' reduces to under £3Bn. We note the National Infrastructure Commission call for an extra £500m a year from 2025, but additional funds alone will not fix the problem. The majority of defects plaguing communities could actually be eradicated over one Parliamentary term before 2025 if the top five priorities of LGTAG are adopted.
Priority 2 – Multiyear settlement
For successive Parliaments, Ministers have safeguarded a DfT multiyear funding settlement. This has already delivered better local outcomes through forward planning of work over three to fivve years and it has reassured Councillors and Communities through published programmes rather than a knee jerk reaction 'worst first'. Higher performing councils have forged new smarter engagement with the supply chain to achieve better value for money. Co-ordination of works with Utilities is also better. Evidence from new data systems and asset planning tools prove the benefit of long term settlements. Many Councils now avert future liability for future costly emergency repairs and prudentially borrowing capital to match DfT grant and secure a better long term outcome. Large revenue spends on call centres, complaints and reactive teams are replaced with smart systems and asset management. Highways England' (RIS) and Network Rail (CP) already have long term certainty.
A 10-year settlement, linked to new accountability, would enable high performing councils to plan over the long term and consider the scope for upfront profiling of works in the first 48 months. This could see ten years' work in the first four years – not PFI but smart and prudent roads funding.
Priority 3 –TotEx the common sense approach to investment
Many councils are taking different approaches to what is defined as "Revenue" or "Capital", a problem compounded by different innovations and application such as spray injection. Perverse incentives in some councils mean big and costly patches, rather than low cost innovative approaches, are applied. Local communities are inadvertently losing. This is not a matter of the quantum of funding but rather that all Councils have a single version of the truth. 'TotEx' or total expenditure would ensure the money works as smart as our front line teams.
Priority 4 – One Single Funding Stream for Highway Authorities
Highway Authorities receive capital investment in the form of the Integrated Transport Block, Highways Maintenance Block, Pothole Funding, and Challenge Funding etc. which creates unnecessarily complexity against local priorities including street furniture, drains, street lights and public rights of way. there is too much specificity and too many funding streams.
DfT should endorse a single funding stream but with it create a more transparent accountability on performance outcomes that the current incentive regime does not permit. Ministers can still drive change through targeted funding in pursuit of distinct outcomes, but the balance would be more towards high performing councils being given greater flexibility with devolved funding.
The funding of road maintenance in London is also increasingly at variance to the rest of England with lower levels of transparency on asset condition, forward trajectory on failure rates and general levels of maintenance on local roads
Priority 5 - Future of Condition Surveys and Asset Information
There have been major advances in video capture, big data and ever more accurate depreciation software. There is a however no consistency across 153 Councils, no baseline or accurate trend for each council, and the ability to compare council's for performance purposes is non-existent. There are too many 'version of the truth' and fragmentation across the sector. For the price of a single new road, a universal capture of every Council is possible.
An initial national condition survey would provide hard facts and comparable data on the success of local maintenance approaches. This 'Year Zero' baseline would validate local decisions on how to prioritise funding choices, endorsing high performing councils and leave others with 'no place to hide'. This would not mask the need to understand the full depth of the networks, bridges and retaining walls but it would provide a better system to start from.
Through multiyear settlements, forward planning and a TotEx regime we remove perverse approaches that work against a 'right first time' approach. For the first time Whitehall and Shire Hall would use the new performance data to witness the decline of potholes
Studies show that investing in highway maintenance can help stimulate the local economy through efficient transport of goods and reduction in delays. Research has estimated that, on average, businesses affected by poor road condition lose over £8,000 a year on vehicle damage and increased fuel costs. A third of businesses also lose about £15,000 each per year because the condition of local roads reduces their competitiveness.