A leading road safety charity has called for safety investments in the Major Road Network (MRN) to be a 'clear and urgent priority', after revealing that it has a fatal and serious crash rate almost five times that of the strategic road network (SRN).
A report from the Road Safety Foundation (RSF) and Ageas Insurance, to be published next week, identifies 128 routes on the MRN with a total length of just over 1,000km as having particularly high potential for casualty reduction.
The MRN is defined as a 'middle tier' of the country's busiest and most economically important local authority 'A' roads, sitting between the SRN and the rest of the local road network.
The RSF said an investment of around £275m on these roads could be expected to prevent more than 2,600 fatal and serious injury casualties over 20 years, saving an estimated £1.2bn, with an average benefit-cost ratio of more than 4.
RSF executive director Suzy Charman, a co-author of the report, said: 'The MRN has a poor road safety record. Fatal and serious crashes are 50% denser than on the SRN and individuals are almost five times more likely to be killed or seriously injured per mile travelled on it.
'Without a clear, ringfenced funding commitment from central government, injury crashes on the MRN will continue to cost society £1.7bn per year. Without measurement, proactive management and investment, the MRN continues to be a patchwork of poorly-performing roads run by cash-strapped local authorities.'
Ageas CEO Ant Middle said: 'Now is the time to recognise that we need to look forward, continue pressing for greater investment in our country's roads, and consider what more could be done.
'Let's not slip back to accepting the traditional causes of untimely loss but build a better transport infrastructure with investment that continues to improve safety on our roads. Let's build back safer.'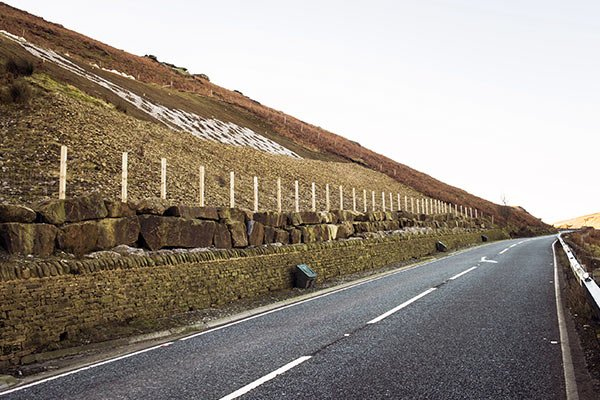 £56m of MRN cash will to 'overhaul' the Kex Gill section of the A59
According to the RSF, the MRN:
is only 10% longer than the SRN but has 25% more fatal crashes and 75% more fatal and serious crashes
has a fatal and serious crash density over 50% higher than on the SRN
has a fatal and serious crash rate per billion vehicle kilometres almost five times as high as the SRN.
The report calls for the MRN to be subjected to the same performance management approach as the SRN including:
a long-term vision – for example, zero road deaths and serious injuries by 2045
concrete interim casualty reduction targets set to guide and measure performance towards the long-term vision
Star Rating performance indicators to measure the in-built safety of the road infrastructure and to help prioritise investment
development and delivery of proactive, evidence-led route safety remedial measures
The RSF said there are four 'significantly improved' routes on the MRN in England – in Bracknell Forest, Kirklees, Bath and North East Somerset, and Walsall.
The number of fatal and serious crashes on these four roads was reduced from 77 between 2014 and 2016 to 23 between 2017 and 2019.