There are 'major concerns' about the potential health and safety hazards workers could be exposed to while handling recycled plastic modified binders during road construction, a new report from the top Australasian transport body says.
Viability of Using Recycled Plastics in Asphalt and Sprayed Sealing Applications by Austroads raises a series of issues about the use of recycled plastic in roads including a lack of study, inconclusive testing, environmental and governance issues.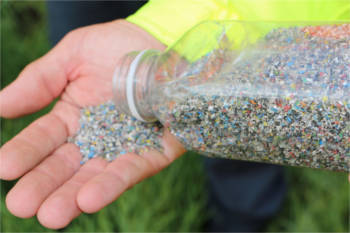 'These products have not as yet been subjected to extensive 3rd party assessment and public scrutiny' and the very little performance data available 'is sometimes contradictory,' the report found.
And although laboratory tests it cites did not raise specific red flags, the report points out these tests were not carried out to Australian standards.
'It was found that waste plastic can act as a partial aggregate replacement in bituminous mixes, and a binder extender without having any significant influence on the properties of the asphalt mix.'
'However, not all recycled plastics are suitable for bitumen modification at high temperatures. For example, heating Poly-vinyl chloride (PVC) at high temperatures can result in dangerous chloride emissions and Polyethylene terephthalate (PET) has a high potential for its own reuse.'
Recycled plastics have come to be used more widely in the UK with sites in Cumbria among others using the product for some years now. A leading company in the area, MacRebur, has said hopes it could replace some 0.3% of asphalt (6% of bitumen in the mix) with recycled plastic.
However as Highways has previously revealed, Transport Scotland among others have concerns in the sector about the way the subject has been presented in the media and some of the claims that have been made about the product.
MacRebur previously confirmed that 'around 30% of all plastics that goes into household waste have the right polymer that we can use' - clarifying that not all plastic bottles and bags can be used for the process.
The firm also confirmed that references to its plastic additive making the road 'stronger' were incorrect and claimed these were the result of media misinterpretation.
One insider told Highways they believed the use of recycled plastic would be ok in the base layer of roads but to use it in the surface layer without further testing was a mistake.
Performance framework
A key recommendation in the report by Austroads is the need to develop a governance framework on the use of plastics in road construction to ensure consistency of approach, effective quality control and safe handling of these materials.
'A generic performance-related specification for the use of recycled plastics in both asphalt and sprayed seals should be developed that incorporates:
• managing the plastic selection from the waste stream
• performance assessment through standard testing
• durability proving and potential system certification
• the establishment of performance-based outcomes and assessment procedures
• market driven performance incentives and opportunities for branding of proprietary products.
It adds: 'There are different methods of application and mixing of plastic with other materials such as crumb rubber, RAP, glass, etc. These multitude potential applications fit best with a performance based approach rather than a more prescriptive specification/standard. This should form part of a wider governance framework to drive positive outcomes and give clear and consistent national guidance on industry practice.'
The report presents the findings of a literature review, including case studies of local and overseas road trials involving the use of recycled plastic in roads.
'Whilst there may be environmental benefits associated with the use of recycled plastic, there are concerns regarding the potential health and safety hazards that road workers might be exposed to while handling these materials, sustainability impacts, and impacts on the surrounding environment,' the report states.
It is possible that the 'potential toxic elements remain in the environment and build up in the food chain and subsequently, building up in the human body which can be harmful or deadly (Royer et al. 2018)'.
'They reported that heating plastics such as PP (polypropylene), PE (recycled polyethylene) and PS (polystyrene) release moderate to highly-toxic emissions such as carbon monoxide, acrolein, formic acid, acetone, formaldehyde, acetaldehyde, toluene and ethylbenzene
'It is recommended an independent 3rd party review be conducted of the most commonly used proprietary products and that they be compared with standard Australian bitumen and asphalt mix specifications, as well as against individual state road authority standards and guidelines.'
Chief executive of the Institute of Highway Engineers, Richard Hayes, said: It is great to see an independent assessment of the use of recycled plastic material and something UK authorities (whoever they may be) would do well to read and absorb.
'A few questions come to mind: Are we using recycled plastic to win some green credentials in any otherwise carbon dominant industry? Could this material be better used in other industries rather than roads? It doesn't seem to be cheaper, so why again are we using it?
'The potential health and safety issues are quite worrying and the long-term sustainability of the micro polymers need to be considered. The report gives excellent examples of other recycled materials that are being used which are more cost effective.'
A MacRebur spokesperson said: 'As mentioned in the report, the use of plastics in roads in Australia and New Zealand remains relatively new, however, as leaders in the safe, high-performance and tested use of waste plastic in asphalt, we at MacRebur believe we can support its development in these countries going forward.'