The Scottish transport secretary has sought to play down fears that capital spending programmes on new roads could be cut in light of the devolved government's draft national transport strategy (NTS).
The strategy, which closed for consultation at the end of last month, redefines investment priorities, 'putting sustainable and public transport at the heart of decision-making'.
On top of this the NTS will feed into a Strategic Transport Projects Review (STPR2), which will set out a 20-year plan for transport investment and could look again at big ticket national road building projects.
Transport Scotland has been cautious not to raise the alarm over the prospect of capital road building projects being cut and to downplay comments made by officials that they were under review.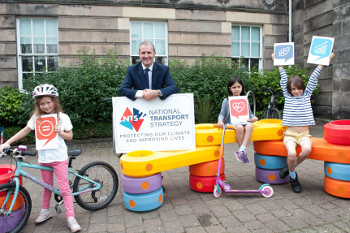 Cabinet secretary for transport, infrastructure and connectivity, Michael Matheson (pictured right at the NTS launch), told Highways: 'We will still continue to invest in our road network and there will be no change to that.
'What we always do with any major infrastructure project is keep it under review to make sure it is delivering what we want it to achieve.
'For example the biggest infrastructure project in Scotland is the dualling of the A9 that is a £3bn project that continues to move forward. The next one to follow is the dualling of the A96 between Inverness and Aberdeen, again that continues to move at a pace.
'Although we need to make sure we are developing the right type of infrastructure to support active travel we need to make sure we have the right infrastructure in place for road transport as well.
'We need to make sure we get both parts of this right. That is what I am doing in making sure we get record investment going into active travel infrastructure while at the same time making sure we deliver the right type of road connectivity in key parts of the country.'