Launching the Scottish Government's draft National Transport Strategy (NTS) in late July, infrastructure secretary Michael Matheson said he wanted the proposals to be a 'catalyst for change'. The greatest impact could be on major road-building schemes.
A consultation on the draft NTS closed at the end of last month and ministers and officials are no doubt reviewing the responses. But finalising the NTS could be just the beginning of the story in terms of the Scottish Government's changing approach to its roads and other major infrastructure.
The draft NTS describes how a (second) Strategic Transport Projects Review (STPR2) will set out a 20-year plan for transport investment 'through the lens of the strategy's priorities and in line with the sustainable travel and investment hierarchies'.
Like its 2008 predecessor, the STPR2 is being carried out by Jacobs and AECOM and is looking at 'all transport modes, including the strategic road and rail networks, as well as active travel, island connectivity, ferries and buses'.
The findings of the STPR2 and other reviews will then be presented in a delivery plan which in relation to the country's trunk roads seems broadly equivalent to Highways England's Road Investment Strategy.
As for the priorities of the NTS, the Scottish Government has stated that in the context of a 'global climate emergency' the role of transport in helping to deliver net-zero carbon emissions by 2045 is 'a key priority'.
It added: 'The strategy redefines investment priorities, putting sustainable and public transport at the heart of decision-making.'
Although Mr Matheson stressed in the foreword to the document that his government's National Infrastructure Mission 'has committed us to increase overall infrastructure spending', this does not necessarily mean extra spending on roads, or even that road spending will be on new projects.
In fact, the introductory chapter states baldly: 'We will not be building infrastructure to support forecast demand – we will reduce the need to travel by unsustainable modes in line with the Sustainable Travel Hierarchy.'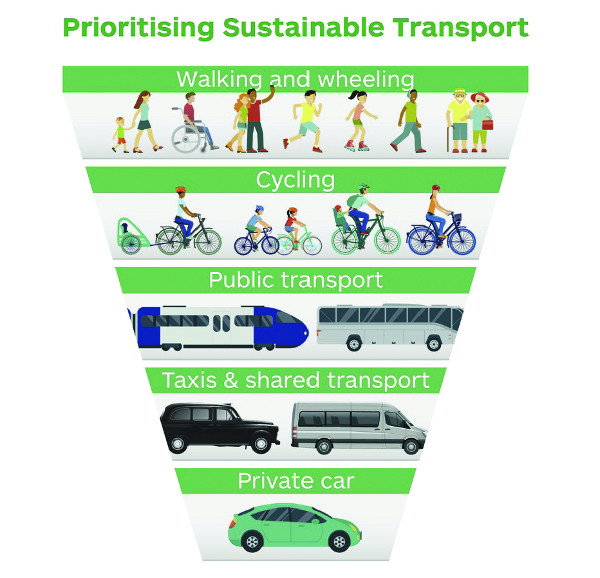 That sustainable transport hierarchy (pictured above) puts the private car at the bottom with 'walking and wheeling' at the top.
Both the sustainable transport hierarchy and a separate 'sustainable investment hierarchy' (pictured below) are inverted pyramids. Although this is not a new concept, it does emphasise that previous approaches have been turned upside down.
Indeed, if Scotland's ministers are to achieve the change they seek, a radical approach is clearly needed in a situation where they are struggling to persuade people to use their cars less. According to the Scottish Household Survey 2018, over half (53%) of journeys in the country were made by driving a car or van, while satisfaction with public transport in the country dropped from 75% in 2014 to 65% in 2018.
Although walking was the next most popular mode of transport at 20% of journeys, this has dropped from 26% in 2012. Cycling accounted for just 1.4% of journeys.
The sustainable investment hierarchy places reducing the need to travel unsustainably at the top of its inverted pyramid, with maintaining and safely operating existing assets second.
Third is making better use of existing capacity, with 'targeted infrastructure improvements' in fourth and last place and very clearly feeling the squeeze.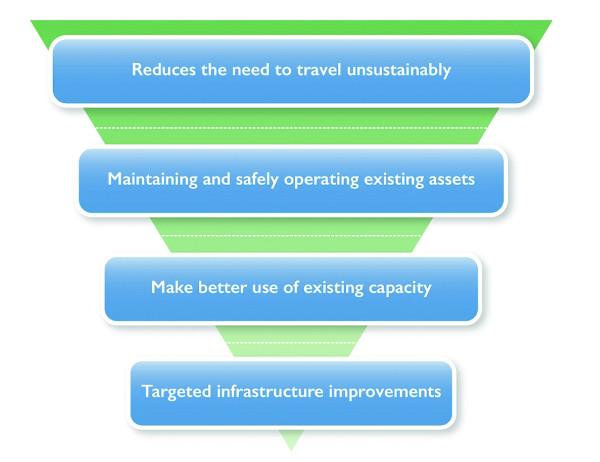 If all this suggests that the Scottish Government is moving away from major investments in road projects such as the A9 and A96 dualling schemes (each costed at £3bn), Transport Scotland officials said as much at a Scottish parliamentary committee last month, although the organisation subsequently rowed back significantly – at least as far as those two schemes are concerned.
At a meeting of the Rural Economy and Connectivity Committee, John Finnie MSP asked Transport Scotland's director of roads, Hugh Gillies: 'For the avoidance of doubt is there a review of whether we are going to continue with the dualling of the A9 and A96?'
Mr Gillies said: 'What I will say is that all of this is up for debate as part of the Strategy Transport Projects Review.'
Pressed by Mr Finnie later in the meeting as to whether the road-building programme is under review, Mr Gillies said: 'The road-building programme, as you describe it, is under review.'
He added that the STPR2 'will determine how the Scottish Government will take forward its transport infrastructure planning and delivery' and the road-building programme 'will be taken into consideration as part of that'.
Mr Gillies added: 'The first minister gave a clear indication in the programme for government on the promotion of active travel and a move to seriously change mode take-up through the promotion of bus travel. At Transport Scotland, we will need to play our part in the delivery of that.'
Mr Gillies' responses may have been frank but they are really logical conclusions from the Scottish Government's approach, as set out in the NTS.
However, reflecting an acute awareness of the controversy, Transport Scotland all but contradicted him.
A spokesperson said: 'The Scottish Government is committed to dualling the A9 between Perth and Inverness and the A96 between Inverness and Aberdeen, underlining its commitment to connecting Scotland's cities with a high quality transport system that will generate sustainable economic growth.'
As a Green Party MSP, Mr Finnie's line of questioning was whether the Scottish Government's plans to expand its road network were compatible with its plans to tackle climate change.
However, Labour MSP Colin Smyth pointed to another perhaps conflicting imperative when he asked about calls for the Scottish Government to focus on the maintenance of the existing road network before investing in the expansion of the trunk road network, adding that this is 'hinted at quite strongly' in the draft NTS.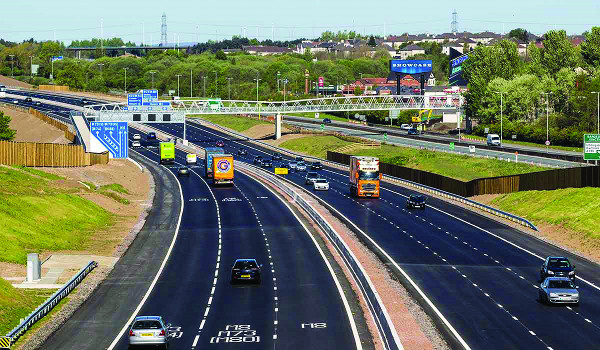 Mr Gillies said: 'Transport Scotland's position on the National Transport Strategy will be that we would invest in what we have, maintain what we have, add to what we have and then build new infrastructure.'
Although Mr Gillies suggested that this represented Transport Scotland's 'historical position', Mr Smyth asked him whether the 'direction of travel' was that the balance would change with more focus on maintaining the existing network.
Mr Gillies replied: 'The NTS is out for consultation just now but that's a clear indication of an option to go forward.'
Cllr Steven Heddle, environment and economy spokesperson for the Convention of Scottish Local Authorities, agreed that it was a good question.
He said: 'Trying to prioritise between new infrastructure, when we don't know what it is, and existing infrastructure, when we don't know where it's being focused, is a difficult distinction to make, and it's one we need to wrestle with.'
Stewart Turner, head of the Ayrshire Roads Alliance and chair of the Society of Chief Officers of Transportation in Scotland (SCOTS) said that SCOTS supported the draft NTS in principle but added: 'I think we have to recognise that it's about the sustainable travel hierarchy, so we have to get walking, cycling, public transport ahead of the car. I think we all agree that is the way forward to make a healthier and better Scotland.'
He added: 'But we still have to maintain what we've got. An analogy that's used sometimes is, in a house you would fix the roof before you put in new carpets.'
The response from Mr Smyth gave an indication of the political difficulty of rowing back from major schemes: 'There's bound to be an element of resentment if, having seen the Government spend literally billions and proposing to spend billions upgrading the A9, we suddenly move to a position where we're no longer expanding the roads network.
'People who live or travel on the A75 and the A77 to the ferry ports through Ayrshire, are going to feel particularly angry because they haven't benefited from that investment if you suddenly move away from supporting expanding the network to a policy of just maintaining what we've got.'
Indeed, questions to Mr Matheson from MSPs in his own party in June indicate the extent to which STPR2 represents something of a wish list for regional representatives.
The SNPs Joan McAlpine reminded him that their party's manifesto committed the government to improvements on the A75 as well as better links for Dumfries to Scotland's central belt and the motorway.
Similarly, SNP MSP Kenny Gibson sought an assurance, which Mr Matheson was happy to provide, that the 'increasingly congested' A737 in Ayrshire would be included in STPR2.
If the logic of the NTS is to be put into practice, someone will be disappointed.
Traffex Scotland and Bridges Scotland, the devolved nation's only dedicated events for the roads and bridges sectors under one roof, take place at the SEC Glasgow on 13 and 14 November.