The National Infrastructure Commission (NIC) has called for government to make £500m a year available from 2025/26 to 2034/35 for local highways authorities to address the local road maintenance backlog.
The NIC's long-awaited first National Infrastructure Assessment (NIA) has also called for elected metro mayors and other city leaders to be given more power and cash to back infrastructure projects.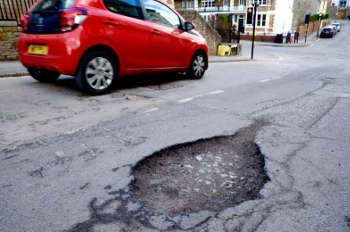 The Commission wants the Government to prepare the charging infrastructure for 100% electric vehicle sales by 2030, well ahead of its plan to ban the sale of new conventional diesel and petrol vehicles by 2040. The Department for Transport's 'Road to Zero' strategy, published on Monday, included an 'ambition' for at least half of new cars to be ultra low emission by 2030.
The NIA confirms the Commission's support for major transport projects such as Crossrail 2 and Northern Powerhouse Rail.
It also calls on ministers to accelerate the switch to greener energy generation, with a major expansion of renewable energy and a slowdown of new nuclear power.
NIC chair Sir John Armitt said: 'Whether it's electric or driverless cars, new energy sources, tackling the risk of climate change or preparing for the newest and fastest broadband speeds, the issues we've been considering profoundly affect people's everyday lives.
'This is not some unaffordable wish-list of projects: it sets a clear direction for how to meet the country's future infrastructure needs, and makes a realistic assessment of what can and should be delivered within the stated aim of ministers for steady and continued investment over the coming years.'
Howard Robinson, chief executive of the Road Surface Treatments Association, said: 'The Commission's recommendation that government provide £500m a year of funding from 2025/26 to 2034/35 to address the local road maintenance backlog is too little too late. It fails to recognise the extent of the severe deterioration resulting from decades of under-investment. £9.3bn is required now to bring the local road network up to a reasonable standard, not in seven years' time.
'Any extra funding is to be welcomed but based on the Commission's recommendations it will take more than 18 years to bring the local road network up to standard. The question is that given that one-in-five local roads are in such a poor state that they may need replacing within five years, will we actually have any local roads by then?'
A Government spokesperson said it welcomes the NIC's ambition on electric vehicles, and is fully committed to the UK to becoming a world-leader in the ultra-low emission vehicle market, investing nearly £1.5bn to support the uptake.
The spokesperson said: 'We are fully committed to the UK to becoming a world-leader in the ultra-low emission vehicle market and we are investing nearly £1.5bn to support the uptake.'
The Commission's recommendations include:
that the Government work with councils and private companies to deliver a national network of charging points for electric vehicles and ensures that the impacts of connected and autonomous vehicles are taken into account when planning for the next rail control period and road investment strategy;
that Metro Mayors and city leaders develop and implement long-term strategies for transport, employment and housing in their areas, to support economic growth, with new powers and devolved infrastructure budgets. The NIA's spending plans include funding for projects including Crossrail 2 in London, and Northern Powerhouse Rail linking the major Northern cities, and recommends a boost in funding for major cities totalling £43bn to 2040, with cities given stable five-year budgets, starting in 2021;
that the Government should put in place a long-term strategy to deliver a nationwide standard of flood resilience by 2050 with funding for flood risk management increasing significantly over the coming decades