All new homes and offices in England will have electric car chargers as standard under new laws, the Government has said.
The move follows a 2019 public consultation on the plans, which suggested the legislation was a 'world first'. Transport minister Rachel Maclean confirmed that a formal response to the consultation would be published shortly.
She said: 'We intend to lay legislation later this year. We have also confirmed our intention to mandate at-home and workplace electric vehicle chargers must be capable of smart charging.'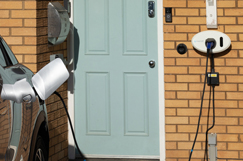 The laws would require all chargers to be 'smart' devices that will ensure batteries can be charged up without overloading the grid, including by supporting overnight charging.
The rules are expected to come into force next year in England. As they require changes to be made to existing building regulations to enforce the legislation, the move will only apply to England as building regulations are a devolved matter.
The original consultation promised to install charging points in 'every new residential building with an associated car parking space'.
The Times has reported that existing residential blocks with more than ten parking spaces would also have to install charging cables running into every car parking space whenever they undergo an upgrade.
New charging space will be required for every five parking spaces, for office blocks.
However, some in the transport industry have criticised the move as encouraging car dependency rather than supporting moves to more active travel.