The first installation project has been announced for a new HC350 concrete barrier, which offers a narrow footprint of 350mm.
The barrier, which is produced by Highway Care, was chosen for the A4232 and Caerau Lane bridge, Cardiff later this month, where Amberon is the contractor.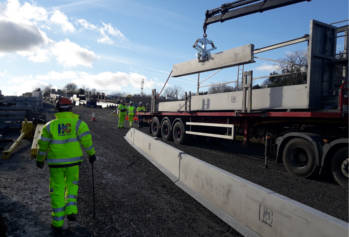 Particularly designed to work in areas of limited space including bridges, bottlenecks and pinch point schemes, the HC350 can also offer low-deflection, while increasing work zone areas.
Around 150m of barrier will be installed to allow for safe working on the bridge.
Ian Davey, commercial manager of road barrier systems at Highway Care said: 'We are delighted to be working with Amberon on a parapet replacement scheme utilising for the first time our HC350 TVRS barrier.
'It was deemed early on during the design phase that there was physically not enough space for a conventional temporary steel barrier but still a necessity for N2 performance.
'We were approached by Amberon and had the perfect solution in the making. The HC350 deals with space constraints onsite whilst protecting the workforce and road users.'