The Planning Inspectorate has passed its recommendation on plans to build a tunnel at Stonehenge to the transport secretary but the project remains unfunded.
Grant Shapps – or his successor in any post-election cabinet reshuffle – now has three months to make a decision on the controversial scheme.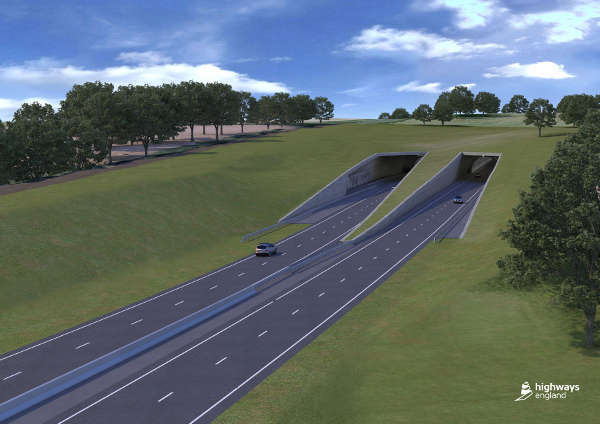 However, Highways England does not currently have a funding source for the project or the roads for the Lower Thames Crossing – another tunnel – between Kent and Essex.
Both schemes were to be privately financed until the then chancellor, Philip Hammond, placed a moratorium on PFI and PF2 schemes in the 2018 Autumn Budget.
A spokesperson for the Department for Transport told Highways that announcements on the schemes, as well as the Road Investment Strategy from April 2020, which remains unpublished, would be made 'in due course' – government code for the absence of a firm date.
Last year, Highways England chief executive Jim O'Sullivan repeatedly warned that a failure to clarify funding by the end of that year would cause difficulties for the procurement of the Stonehenge Tunnel project in particular.
Nevertheless, in July the Government-owned company issued a contract notice for the scheme with works valued at £1.25bn, stating that it was seeking 'a high performing partner'.
While acknowledging that the works were depended on the award of a Development Consent Order, project director Derek Parody said: 'The start of the procurement process demonstrates the Government's continued commitment to this scheme and an expectation that progress on it continues as planned.'
Last month it was reported that major UK contractors had refused to bid for the works as they were unhappy that the procurement process required them to submit and stick to a single price for the job.
According to New Civil Engineer, Highways England has received three bids from multi-national joint ventures.
Highways England declined to comment on the funding or procurement issues.
A spokesperson said: 'The Planning Inspectorate has sent its report and recommendation to the transport secretary and we await his decision. An update on the project will be announced in due course.'
The proposed upgrade of the A303 between Amesbury and Berwick Down includes:
eight miles of free-flowing, high-quality dual carriageway
a tunnel at least two miles long underneath the World Heritage Site, closely following the existing A303 route, but a further 50 metres away from the Stonehenge monument, avoiding important archaeological sites, and avoiding intrusion on the view of the setting sun from the stones during the winter solstice
a new bypass to the north of the village of Winterbourne Stoke
junctions with the A345 and A360 either side of the World Heritage Site