A police force has taken the first step towards a possible criminal investigation into the role that the absence of a hard shoulder played in the death of two men on a smart motorway section of the M1.
It follows comments from the coroner at the inquest into the death of Jason Mercer and Alexandru Murgeanu, who described all lane running schemes as presenting 'an ongoing risk of future deaths' and called for a new review into their safety.
The two men were involved in an incident on the M1 near Sheffield in June 2019 and had stopped to exchange details when they were hit by a lorry.
Following a criminal investigation conducted by South Yorkshire Police (SYP). the lorry driver, Prezemyslaw Szuba, was sentenced to 10 months in prison last October, after pleading guilty to two counts of causing death by careless or inconsiderate driving.
Mr Mercer's widow, Claire Mercer, who has since campaigned against smart motorways, has said that she does not consider Szuba to have been to blame.
In a statement, SYP said that following a review of the coroner's Prevention of Future Death report: 'South Yorkshire Police will be requesting full disclosure from HM Coroner of all documents and evidence, which led to his conclusions that the evidence showed there was an obvious and foreseeable risk posed by the absence of a hard shoulder on smart motorways.'
SYP stressed that it is not instigating a formal criminal investigation into Highways England. It said: 'This review of any additional material generated from the inquest will allow SYP to determine if a crime has been committed, and as a consequence, whether any further criminal investigations should take place, in close consultation with the Health and Safety Executive (HSE).'
It also noted the case of Nargis Begum who also was killed on a stretch of 'smart motorway', in September 2018. Last week at a pre-inquest review of that case the coroner asked the Crown Prosecution Service to consider a charge of corporate manslaughter against Highways England.
SYP said: 'We await the findings of the coroner in this case.'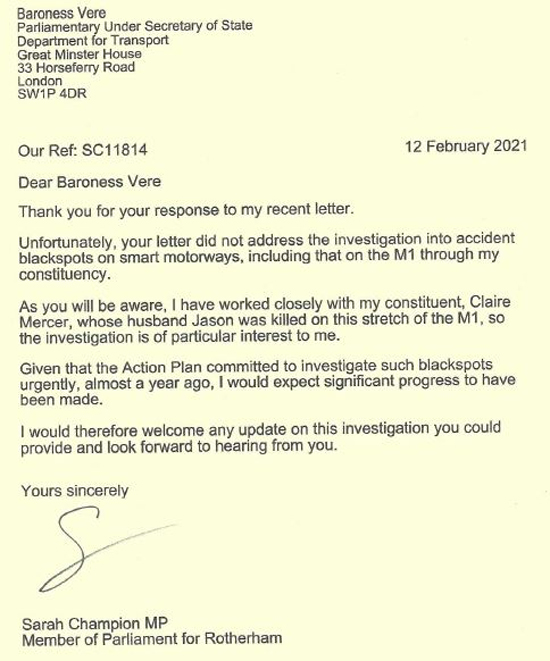 Ms Mercer's MP, Sarah Champion, has challenged roads minister Baroness Vere over the Government's pledge to investigate blackspots on the sections smart motorway network, including on the M1 motorway, where there have been clusters of incidents.
In its smart motorway stocktake last year, the Department for Transport said it was 'committing to investigate urgently what more could be done…on these sections of the M1, adding: 'Where an intervention is considered likely to make a difference, we will look to make changes to the motorway at these locations.'
Ms Champion told Baroness Vere that, given that the stocktake was published almost a year ago, 'I would expect significant progress to have been made.'