Low emission zones and road pricing deliver the highest public health benefit of any transport intervention aimed at tackling the effects of air pollution, the Government's own advisers have said.
Public Health England (PHE) was commissioned by the Government to review the evidence for effective air quality interventions and provide practical recommendations for actions to improve air quality.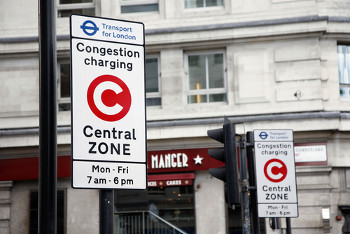 It commissioned five 'rapid evidence assessments' that focused on vehicles and fuels; spatial planning; industry; agriculture; and people's behaviour.
Its report states: 'Strategies that deliver the highest public health benefit relative to transport are actions or interventions aimed at reducing the use of polluting forms of transport, such as low emission zones and road pricing.'
It adds that, in the face of the public's reluctance to reduce their own car use unless others do the same: 'Pricing measures are effective, particularly in the case of low and integrated fares, which facilitate greater public transport use and help reduce social exclusion, and congestion and parking charges, which can help reduce car use.'
It adds: 'Active travel interventions, such as promoting walking and cycling at limited scale, do not generally improve air quality significantly; however, there are proven public health and environmental benefits from the added physical exercise, noise reduction, climate change mitigation and greater road safety and community cohesion.'
In the foreword to the report, Professor Paul Cosford, director of health protection and medical director at PHE, wrote: 'The inexorable rise of road, air and sea transport, industrialisation of food production and many other factors means air quality remains a major issue for the public's health.
'Walking, cycling and other forms of active travel are great for improving health and reducing air pollution, but too often people are put off by the risk of exposure to high concentrations of pollutants. With an estimated effect equivalent to 28,000 – 36,000 deaths each year attributable to human-made air pollution in the UK, more action is clearly needed.'
The report states: 'Anti-idling interventions can improve air quality in pollution hotspots or close to vulnerable receptors, such as schools or hospitals.'
However, it also states that the overall effectiveness of such interventions in improving air quality 'was found to be low'.
A recent FOI found a total of 10 councils have handed out 59 fines to drivers across England and Wales for the offence despite having had the power to fine drivers for leaving their engines idling since 2002.
The PHE report also recommends making it easy for children to walk or cycle to school and increasing public awareness in relation to air pollution and children.
The RAC's head of roads policy, Nicholas Lyes, said: 'Unnecessary idling contributes to poor local air quality so it is right that we look at changing behaviours. Encouraging well-intentioned parents to switch off their engines outside schools shouldn't be met with much resistance.
'However, it isn't just near schools where we should be cutting down on unnecessary idling – taxi ranks and bus stations in busy areas should also be targeted.'
The report states that the introduction of bi-mode trains and the electrification of the rail fleet would be effective in reducing emissions but adds that 'cost and operational limitations are potential barriers to electrification of the rail network'.
In 2017 transport secretary Chris Grayling was widely criticised for cutting back on a programme of extending infrastructure to support electrification to save cash.
The Department for Transport argued that the use of bi-mode (electric/diesel) trains would provide the benefits of electrification without 'disruptive electrification works'.