In the first of a two-part series, Adrian Tatum reports from an extended round table, hosted by Kier and Highways, where local authorities and the Tier One contractor discussed the sector's big issues including funding and innovation.
They say all the best businesses evolve in line with their customers' expectations, rather than just changing and reacting to market conditions around them. The journey for Kier over the last few years has been a phenomenal one, both in terms of its ongoing work with Highways England and its growing list of local authority clients. It has evolved into one of the most forward-thinking and innovative consultants and contractors operating in the sector. Some might say it has almost been a revolution rather than an evolution.
On the back of this dramatic progress, Kier joined forces with Highways to host a round table and day-long seminar with its local authority clients, to try to understand the emerging challenges and how more collaborative work could accelerate improvement within those contracts and in the sector at large.
The aim was also to share best practice measures and explore the contribution that local authority contracts make to place-shaping and social and economic values. The debate was held under the Chatham House rule, to encourage an open and honest discussion.
Waiving his anonymity, as he so often does, the day was started by Martin Duffy, Kier's collaboration and improvement director. He said: 'We are here as a group of individuals who have considerable experience in local government and highways and now jointly face a common set of issues and challenges that we can work through together. Today, we are committed to listening, learning and sharing.'
Kier said it would measure performance across all of its local authority contracts with the aim of making improvements including in the areas of design and technology. Attendees were asked what the 'big issues' of the moment were. Austerity was mentioned of course, as was the fact that the sector needs to step out of the shadows if it is to be really progressive and efficient in the future. The clients were also asked about the sector in the context of social value, driving growth and the potential of 'place' to deliver for the community at large.
One attendee said: 'One of the challenges is money, but there will never be enough. It's about how we get smarter with it. For me, the biggest challenge is still how we can be more proactive, rather than reactive, to some of our challenges. How do all the services interact with each other within the department? We need to move towards a "whole street" approach to our delivery. Social value is also something we want to push forward. But what is it and what does it mean to our region?'
Another said: 'For me, the question is about what context we are operating in. The pressure that social care has on the overall council budget still resonates, but the pressure of getting highways right for the public is going up. How do we meet that challenge? Place-shaping is also becoming more and more important.'
One participant added: 'The expectation from members to deliver more is still high despite budget cuts. So, managing of member and public expectations is really important and will be even more so in the future. Expectation is a lot higher than [can be matched in] reality and we need to educate people about exactly what we are doing and why we are doing it.'
'Managing the impact of this winter will be difficult to deal with. Members of the public are filling in claim forms as fast as they can,' said another. The theme from the early exchanges was around a need to move away from the siege mentality that work levels and financial constraints can produce, to something more hopeful.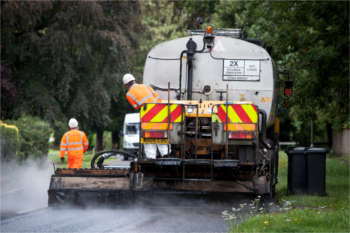 One participant summed up the current situation: 'Demand management is our main job these days with everything we do. The question of how can councils become more self-sufficient to fund what we need to do in the future needs to be asked. Sustainability will be very important in the future. We need to make sure anything new has a degree of longevity. Funding has gone down 49% since 2010, so we still have a big challenge on our hands and we have to work out new ways of drawing in funding to pay for what we need to do in the future.'
It was mentioned that Business Rates retention would be one form of income, but more research was needed into how we can fund the roads of the future. Participants were then asked how they would assess the level of technology and innovation within their contracts and how that was being put to good use. Through its work with Highways England and the dedicated Innovation Fund, Kier has developed a number of new products that could be used on local roads too.
One participant highlighted how Roadmender Asphalt (a division of Billian UK) had developed a method of asphalt mixing that enabled small quantities to be mixed on repair sites using recycled materials, meaning repair gangs could produce mixes on location, to the exact temperature, and leave site with no waste.
Co-ordinating the number of vehicles and equipment required for road resurfacing work is a common challenge, as is keeping road possession time to a minimum, so Kier worked with Roadmender, SHB Hire and its preferred body builders Euromotive to develop a solution to address this using Roadmender Asphalt's process. SHB, a longstanding supply partner to Kier, worked with Roadmender and Euromotive to supply a vehicle suitable for this operational requirement.
The vehicle has a hydraulic tipper on the back and went through several weight permutations and body designs before the final 18-tonne option was chosen. The eponymous 'Roadmender' product is being used across the West Midlands – with two vehicles in Area 9 – and successfully fixes roads using materials containing high percentages of recycled road planings.
A Kier representative said that there the future was about developing some of the key ideas and technology used on the strategic network to make it work on local roads, and cited the Roadmender product as one potential example. 'Roadmender could be useful moving forward. Sometimes it is the basic things we need innovative solutions for.'
Those representing Kier in the room said the company would work towards a solution for this.
One person said: 'The thing I get excited about is around the work we are doing around supply chain collaboration. That is really where the innovation is as it helps unlock productivity. How do we get industry as a whole to drive productivity – be more innovative and benefit as a result? Some of the digital systems we have, such as handheld devices, are good but is that real innovation or something we should have done a long time ago?'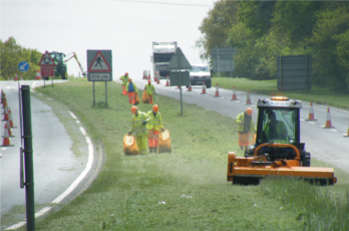 The subject of autonomous and electrical vehicles came up in discussion. 'One of the key things for us moving forward is how we get our existing network prepared for this technology, and it's not all about installing 5G and advanced wireless technology. It is about the basic things like ensuring we have good quality white lines and enough infrastructure such as charging points. If we want to talk about innovation, then some of the work WJ Group is doing with road studs and the safety of the workforce and the public should be applauded.' Another attendee said: 'We need to be more receptive to some of the smaller technology companies, because that is where the real innovation is and some of it will bring benefits we haven't even thought about yet.'
'But we need to be easier to do business with; otherwise these companies will go elsewhere,' they added. 'They don't need all the processes that we have to go through; we need a different set of processes to work with them and collaborative effectively.
'We need to be more forward-thinking about innovation and technology. We are too busy reacting and that needs to change,' said another.
Attending the debate:
Martin Duffy, Kier
Adrian Tatum, Highways magazine and Transport Network
Dominic Browne, Highways magazine and Transport Network
Jason Russell, Surrey CC
Mark Stevens, Suffolk CC
Tim Sneddon, Shropshire CC
Steve Iles LB Croydon
Keith Jackson, Kier
Mitesh Solanki, Kier
Sonia Davidson-Grant, Kier
Jim Harker, Kier
Steve Birdsall, Gaist
Simon Pinkney, measure2improve