Ministers have published an Automated Vehicles (AV) Bill which they said would deliver one of the most comprehensive legal frameworks in the world for self-driving vehicles, 'with safety at its core'.
The Department for Transport (DfT) said the new framework will ensure clear liability for the user, set the safety threshold for legal self-driving and establish an in-use regulatory scheme to monitor the ongoing safety of these vehicles.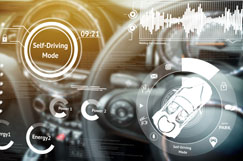 Transport secretary Mark Harper said: 'Our new Bill ensures safety is at the heart of our plans to see self-driving vehicles on our roads, making the UK a great place to develop this technology.
'We have the opportunity to put the UK at the forefront of a fast-growing, multi-billion-pound industry by providing the clarity and certainty for business to develop and invest in this exciting technology.'
The DfT said the Bill implements the recommendations of the review of self-driving vehicle regulation carried out by the Law Commission of England and Wales and the Scottish Law Commission.
The Bill will 'place safety and the protection of the user at its core' through:
creating a rigorous new safety framework: setting the safety threshold for self-driving vehicles in law, while giving government the tools it needs to enforce standards and hold companies to account
ensuring clear legal liability at all times: making companies responsible for how their self-driving vehicles behave on the road and protecting users from being unfairly held accountable
protecting consumers and the public: ensuring that only vehicles meeting rigorous self-driving standards can be marketed as such
setting out new processes to investigate incidents involving self-driving vehicles to ensure that lessons are fed back into the safety framework.
The Bill also aims to ensure clear legal liability when a vehicle is driving itself by creating new legal entities responsible for self-driving that car companies will have to report to.
'A company rather than an individual will be responsible for the way [the vehicle] drives. They will be required to report certain safety related data to the authorisation authority and the in-use regulator and to comply with other relevant laws, including data protection and environmental protection legislation,' the King's Speech notes state.
Every authorised self-driving vehicle will have a corresponding Authorised Self-Driving Entity – often the manufacturer – which will be responsible for the behaviour of the vehicle when self-driving.
The Bill will also prohibit misleading market practices, including around using ambiguous terminology in advertising material around whether their vehicles classify as self driving.