Development consent has been given to the Stonehenge tunnel and wider A303 improvement scheme.
Transport secretary Grant Shapps has approved the plans, which are estimated to cost around £1.7bn but could run up to £2.4bn.
In the decision letter, it said: 'In the Secretary of State's judgment any harm to heritage assets, including the [Outstanding Universal Value] OUV, is less than substantial and this harm (whilst carrying great weight), along with the other harms identified, are outweighed by the benefits of the Development.'
However the examining authority (ExA) report states: 'The ExA concludes that the totality of the adverse impacts of the Proposed Development would strongly outweigh its overall benefits' and so the 'presumption in favour of the grant of development consent cannot therefore be sustained'.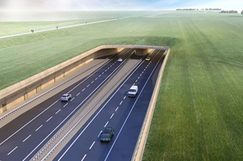 Fieldwork is now due to start in late spring next year, with the main five-year construction phase expected to start by 2023.
There is however a six week period in which the decision can be challenged in the High Court. Given how controversial the plans are to build a tunnel so close to Stonehenge this is a distinct possibility.
The Development Consent Order (DCO) grants construction of a new two-lane dual carriageway for the A303 between Amesbury and Berwick Down in Wiltshire, including the tunnel near Stonehenge.
The key elements of the scheme are:
a northern bypass of Winterbourne Stoke with a viaduct over the River Till valley;
a new junction between the A303 and A360 to the west of, and outside, the Stonehenge World Heritage Site (WHS), replacing the existing Longbarrow roundabout;
a tunnel approximately 2 miles (3.3km) in length past the Stonehenge stones; and
a new junction between the A303 and A345 at the existing Countess roundabout.
In total, the development would be around 8 miles in length.
Highways England chief executive Jim O'Sullivan said: 'The A303 Stonehenge tunnel project is part of the biggest investment in our road network for a generation and we welcome the secretary of state's decision. This transformational scheme will return the Stonehenge landscape towards its original setting and will improve journey times for everyone who travels to and from the south west.'
Derek Parody, Highways England project director for the A303 Stonehenge scheme, added: 'It is a scheme objective to conserve and enhance the World Heritage Site and this is being achieved through close collaborative working with heritage groups, including English Heritage, National Trust, Historic England and the independent A303 Scientific Committee.
'The scheme will not only sustain the Outstanding Universal Value of the WHS, it will also have a beneficial effect, and extensive archaeological studies and assessments have been undertaken to provide evidence of the benefits that the scheme will deliver for the World Heritage Site.'
The application was considered by the Planning Inspectorate followed by a recommendation made to the secretary of state for transport.
The Planning Inspectorate's chief executive, Sarah Richards, said: 'There has been a great deal of public interest in this project. A major priority for us over the course of the examination was to ensure that communities who might be affected by this proposal had the opportunity to put forward their views. As always, the Examining Authority gave careful consideration to these before reaching its conclusion.'