Local authorities have been wrestling with the issue of how to encourage people out of their cars for some time. The benefits, including improved air quality and better health and wellbeing, are broadly understood, but the shift is proving challenging and piecemeal both across the country and within certain demographics.
According to Department for Transport statistics released in July, although there has been an increase in walking 'trips', cycling figures are stagnating with only a small rise in the numbers of women using bikes.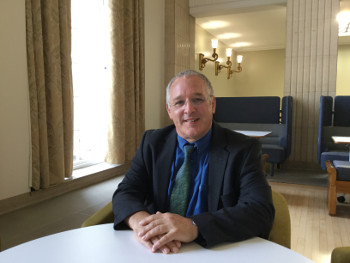 There are two key approaches that councils can deploy to address modal shift. One is to adopt a policy-driven 'place and movement' approach to the network and the other is to tackle the barriers to adoption.
Chief among the latter is the perception of risk among potential and more vulnerable users – many people report they just don't feel safe.
The place and movement philosophy is one that is increasingly coming to the fore to support active travel and modal shift policies. It flips traditional road classifications and instead seeks to set travel priorities for an area based on place, looking at purpose and function alongside movement.
In the high street, for example, pedestrians will be prioritised, as their needs are intrinsic to the area. There may be more crossing points, traffic lights and pedestrianised zones, which also serve to control and slow down traffic.
Conversely, for urban interlinks that provide routes between areas, road traffic is prioritised over pedestrians and cyclists, supporting the priority function for that route and those who use it most.
In Hertfordshire, the county's Local Travel Plan is one of the first in the country to flip the transport hierarchy, placing walking and cycling at the top and embedding place and movement principles.
We are using the approach to shape the network maintenance strategy based on area, and prioritising works accordingly.
Adopting place and movement also helps the public to understand how we develop our transport strategies and prioritise different usages across the network, including speed management. In addition, it can contribute to the public's own perception of risk and safety, which is critical to the take up of active travel, particularly cycling.
Changing perception
The issue of perception is fundamental. People recognise the benefits of active travel, but they are concerned with safety. A government study into 20mph zones, published in November 2018, found that while they made only a small reduction to traffic speed in areas where traffic-calming measures were already in place, they had a significant impact on perceptions of safety and led to a small increase in cycling and walking.
The evidence suggests the introduction of signage, rather than actual reduction in speed, causes vulnerable users to feel safer.
Unfortunately, aggressive behaviour from some drivers and riders leaves many pedestrians and vulnerable users feeling unsafe. Equally, increased mobile phone use means people are less aware of what is happening around them. We are looking for government support at a national level to address behavioural change as well as modal shift.
We have found that developing technological solutions and adopting innovation to support active travel does create change. The introduction and take up of e-bikes in London, for example, has been really successful, opening up the network to many new users. The same could happen for e-scooters. This is why tackling perception is so important.
The Government, so far, has been cautious in opening up the network outside the capital. E-scooters and bikes are not allowed on the highways, but are regularly seen on the highways in London with the associated reduction in pressure on other travel modes. We would like the Government to support pilot schemes in controlled areas to really test out how we can support newer forms of active travel. We need to understand journey patterns, so we can ensure the right facilities are in the correct place.
In Hertfordshire, we are seeing far more take-up of active travel plans. We are working with companies and communities and there is no shortage of people wanting to talk to us about how to adopt new schemes. There is definite momentum, but what we lack is the funding to support these asks.
ADEPT welcomes the Government's commitment to active travel; we just need more support to produce real change.
Mark Kemp is chair of ADEPT's Transport and Connectivity Board.