Transport Scotland has launched its first virtual public exhibition, which outlines a platform for the future of community consultation.
The virtual exhibition includes examples of new digital initiatives such as 'a story map and data vault' to provide information about the A9 Dualling schemes including the spatial data that is a core part of the design process.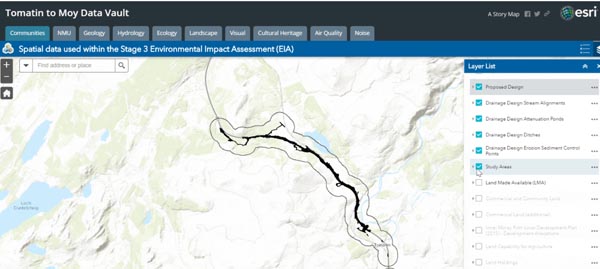 It also gives a guided tour of Scotland's major projects and the design consultants who are currently working on them.
Individual schemes could be consulted on virtually in future, Transport Scotland said, while this initial virtual exhibition is a chance for the public to comment on the platform.
'Face-to-face meetings are likely to be replaced with video calls and the software now available allows presentations, plans and other diagrams to be shared remotely,' it said.
'As we start to re-engage with our stakeholders, more outward facing activity such as the publication or making of Road Orders, Public Local Inquiries (PLIs) and route options consultations, will recommence in a virtual way.
'We will advertise any such activities well in advance and be clear on the methods that will be used to engage and how the information can be accessed.'
Transport Scotland outlined plans to create digital, non-technical summaries of environmental impact assessments (EIA), using Jacobs Smart Report application.
'Images and video links are inserted, and the user dictates the pace at which they progress through the information. Embedded maps can be zoomed in and out and layers added or removed by the user to make the information clear and relevant.'
Transport Scotland said it still plans to advertise major announcements in local and national newspapers and some local project offices will re-open.
Cabinet secretary for transport, infrastructure and connectivity, Michael Matheson, said: 'Over the last few months, our consultants have been able to hold regular client meetings, hosting on-line video meetings with external stakeholders such as individual landowners and their agents.
'This has meant we have been able to progress this vital element of the design work on all our major road projects including our ambitious A9 and A96 Dualling programmes as well as the A720 Sheriffhall Roundabout scheme, the A9/A82 Longman Junction Improvement scheme, the A90 / A937 Laurencekirk Junction Improvement scheme and the A82 Tarbet to Inverarnan scheme amongst others.
'However, during the lockdown it was not possible to progress some preparatory work, such as public engagement events and site surveys. Now that the restrictions are being eased we are looking at how we can engage safely with locals and road users, still ensuring accessibility for all and also carry out the vital survey work including ground investigations, which are an important element in the design process.
'We realise that it is still not possible to hold public exhibitions in venues for the foreseeable future so we need to look at other ways to engage with the public so we can deliver the road schemes we have been progressing across the country. We have been investigating a range of methods for safe and meaningful engagement and we want your views on how they might work for you.'
Click here to visit the future public engagement virtual exhibition.
The deadline for any comments is Thursday 24 September 2020.