Leading road marking company WJ Group has announced it is set to deliver 'the world's first accelerated wear testing device for road studs'.
Martin Webb, operations director at WJ, said: 'It is still very frustrating that there is no live test bed in the UK where we can check performance of our new ideas.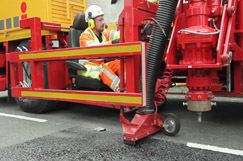 'Usually we have to go to Belgium for road trials, but this latest investment is a step change for testing road studs as well as other highway maintenance and traffic products. The equipment will be initially for our own use but ultimately made available for anyone in the highways sector to utilise as well.'
The news is the latest in a strong run of innovation for the specialist company, including the completion of its ground-breaking Carbon Footprint Model, which determines the carbon footprint of its thermoplastic products and has helped reduce the company's footprint by 80%, WJ said.
It has also showcased the latest development of the Contramark II temporary road stud installation system, made improvements to its Hydroblast line removal process, and modifications to its Captive Shot Retexturing equipment.
WJ Group managing director Wayne Johnston, speaking shortly after the 2020 WJ Health & Safety Seminar in Taunton, said there was 'no place for complacency' anywhere in the business and that future priorities include removing more operatives from the risks of live traffic and eventually moving away from using hot materials.
'Through our continued investment in innovation, and in-house training events like this one, we are striving to reach the point where we eliminate accidents completely,' he added.
'The one thing we need to continue to do is focus on the cultural behaviours within our business and ensure there are no indifferent attitudes when it comes to health, safety and wellbeing. That applies to everyone from the senior management team through office based staff to the workers out on the network.'
The company's Safety Observation Scheme (SOS) encourages staff to report any potentially dangerous situation involving another member of the team, without fear of getting disciplined.
In 2015, when WJ started the scheme 516 reports were received, but by last year, that figure rose to 1,163 reports from staff at depots and workforce on site.
Picture shows the WJ Guardian system for installing road studs without exposing workers to standing next to dangerous live traffic lanes.