Alloy, the new connected highways asset management platform from Yotta, is now available for local authorities, agencies and asset managers globally.
Yotta outlined its vision for the platform at its conference earlier this year, with the promise of a 'new era of connected asset management'.
The interface for the platform is map-based and the functionality makes use of the growing number of sensor-connected assets and the Internet of Things (IoT); allowing a greater understanding and control of individual highways assets.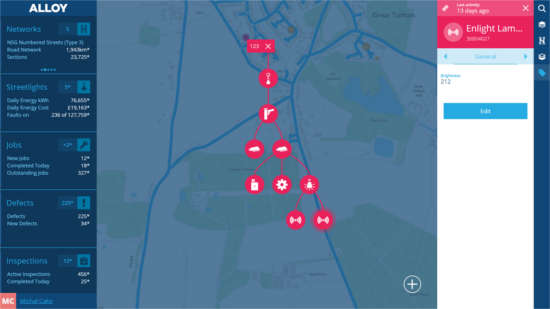 It is also cloud-based and runs as a service, helping organisations save on IT infrastructure and service costs, Yotta said.
The first asset type to benefit from Alloy is street lighting, where the platform introduces advances on Yotta's well-known Mayrise system such as NightScape visualisations.
Further asset classes, including structures, green spaces, drainage and waste management are in development.
'Alloy represents a real step change, laying the foundations for a future of smart cities, the IoT and a new world of connectivity,' says Yotta CEO, Nick Smee.
'It's a completely fresh approach, making it easy for local authorities, agencies and asset managers across the world to manage their assets more efficiently and make intelligent decisions leading to enhanced service levels, but with a lower overhead.'
Yotta has also developed a complementary application, Alloy Mobile, which will be available on Android from today, with an iOS version in development.
It is planned that Alloy will evolve to absorb Yotta's existing Mayrise software. Yotta will provide ongoing support for Mayrise for at least 5 years, the company said.