The first Talking Transport podcast from the ITS America Annual Meeting in Detroit, sponsored by 3M Connected Roads, is online with the focus on safety.
'The technology's cool and there's some pretty amazing stuff here, but the whole point of it is to save lives and make people's lives better,' said ITS America resident and CEO Shailen Bhatt.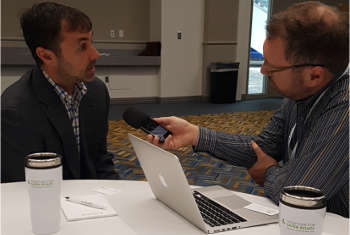 And it's a very safety-filled programme as we also talk about a new ITS America initiative with David Braunstein (pictured with SMART Highways editor Paul Hutton) of Together for Safer Roads to help entrepreneurs get their ideas to the next level.
We also hear about 3M's connected roads with their intelligent road signs and building infrastructure for the next generation of vehicles, as well as an invitation to their truck outside the Cobo Center in Detroit, which is showcasing some of the best of their innovation.
We talk connectivity with the global director from Michigan-based Ford and about why attendees should come to the SMART Highways booth, 144, to pick up a copy of the magazine and sign up to become a subscriber.
These programmes are always carefully presented to be relevant to you whether you're lucky enough to be in Detroit for the meeting or somewhere else in the world, so make sure you spend half an hour of your time catching up with the talk from Detroit, you won't be sorry!
Listen here: