UK-based road and runway maintenance specialist Foster Contracting has appointed the great-great-grandson of the founder as its new managing director.
Ian Foster is the fifth generation to run Foster Contracting Ltd (FCL), which was founded by Herbert Foster in the 1890s as The Essex Steam Rolling Association Ltd.
He has taken over from his father, Tom, who has overseen the company's development during the past 40 years.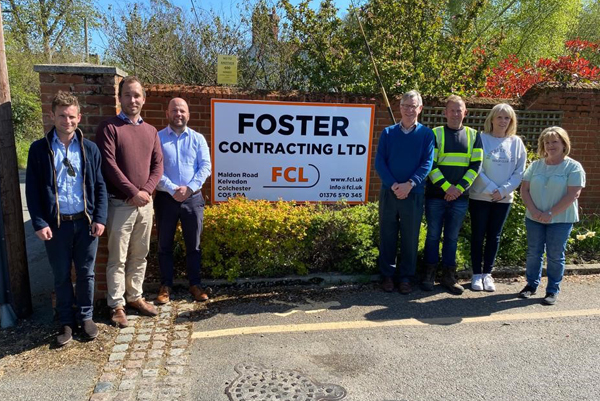 Ian studied civil engineering at the University of Limerick before joining Ringway Jacobs as a graduate quantity surveyor. He then moved to FCL in July 2020, initially focusing on growing the hydroblasting sector of the business.
Ian, 30, said: 'It is a real privilege for me to build on the foundations of my predecessors. I have always been immersed in the family business as I grew up at my family's home beside our depot in Kelvedon, Essex. As a result, I helped from an early age, starting in the summer holidays when I could.
'One of my first contracts was retexturing over 120,000m2 of Dublin Airport's brand-new runway. This had laitance in the concrete which did not give sufficient friction levels for use, so our retexturing treatment ensured it was safe to open. This was a big achievement early on.
'My plans are to grow in our current sectors at a sustainable level while always looking at new areas, bringing new people into the industry and supporting them.'
The company also has a base in Perth in Scotland and specialises in supplying and laying geosynthetic membranes for crack prevention in asphalt surfaces, runway rubber removal, marking removal and other specialist surface treatments.
In 1995, the company successfully carried out the first Highways Agency end performance surface dressing contract which was on the Ramsey to Parkeston section of the A120.
Ian's brother, Patrick, is transport manager at FCL.
Other appointments include Sean Gibb as a company director, Bill Smart as commercial manager and Ray Wicks as a sales consultant.
Tom Foster will remain on the board as a director and focus on technical aspects.
He said: 'We intend to maintain and grow our current activities while continuing to maintain exceptional standards of work and be at the forefront of any innovations. There is plenty of potential to further develop our hydroblasting work. We are also considering new activities which we will announce shortly.'
Photo description: The team in front of FCL sign
Names from left to right:
Patrick (Paddy) Foster, Ian Foster, Bill Smart, Tom Foster, Ray Wicks, Lynne Naylor and Alison Unwin