Well over a decade ago Tarmac undertook a piece of research called Roads 2020. It seemed an appropriate title – a year not too distant but far enough ahead to future gaze.
We asked people to consider what needed to happen in our sector and what they thought our industry should look like in 2020. Many of the responses we received covered skills, climate change and productivity.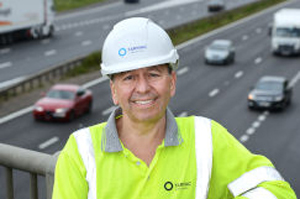 These issues and comments are as a relevant today as they were then. Unsurprisingly nobody mentioned the impact of a pandemic. If someone at one of the breakfast events we hosted (remember when we did those?) had said that this year we would make business decisions via Teams and that our teams would deliver projects all while socially distancing, we wouldn't have believed them.
The changes to our way of life have been rapid. 2020 has turned out to be a pivotal moment for society and all of our businesses and industries.
Against the backdrop of Covid-19 and the undoubted challenges to communities and the economy, I'm a great believer that UK infrastructure delivery and particularly highways projects can support economic recovery and deliver improved social outcomes.
With the scale of the second Roads Investment Strategy (RIS2), there is a major opportunity to assess how the highways sector can boost productivity, accelerate decarbonisation, develop skills and deliver a better performing, resilient industry. 2020 can be a pivotal year for building a better industry.
At Tarmac, we are working with the Highways Sector Council and peers across the industry to consider these opportunities and challenges. The Council is working with government on a number of key focus areas to ensure a strong post-Covid recover. More investment into highways, particularly the underfunded local road asset, the creation a skills legacy and supporting project delivery will all be important in meeting this ambition.
More broadly as a business we've also been working to respond to the Construction Leadership Council's Roadmap to Recovery. This plan has three phases – Restart, Reset, Reinvent.
We've tasked our teams to understand how we can support these phases. It's been an enlightening process, forcing us to consider what we can do now, where we need to refocus and what we also need to do to foster wider industry change.
While not specific to highways, it's a good framework with which to consider what industry transformation might look like.
Continuous industry improvement will undoubtedly be a prerequisite of a suitable deal with government, so it's important that we all continue to foster and contribute to this process.
While not an exhaustive list, there are number of areas where I believe we need to focus.
Firstly, we need early engagement and dialogue to understand future pipelines. Government and major clients must do everything they can to be transparent and get projects to market. In exchange, we're committed to always looking at how we can boost productivity, drive efficiency and cut carbon by considering the most sustainable product and transport solution.
'Collaboration' and 'partnership' are commonly used terms and we need to encourage continued development of joined-up thinking across the supply chain. There are some hard examples of where earlier and greater collaboration can make a real difference.
With the scale of RIS2 and more projects delivered as part of the 'levelling up' agenda, better planning with people, plant and materials is going to be critical. Greater collaboration and sharing of information can also help in the forward planning of material supplies over the longer term and beyond the scope of one project. This allows contractors to meet demand and avoid the need to import materials from further afield and at greater cost – both fiscal and carbon. Local authority clients should be a part of this, giving them awareness of how larger-scale strategic projects might affect planning for their local schemes.
Regional action plans should be developed to give oversight of forthcoming schemes and their requirements. This would allow greater awareness of highways spend, to in turn provide greater certainty of the volume of materials needed, and therefore the capital investment and production strategies which material providers need to put in place.
Aligned with this is the need for us all to sponsor supply chain innovation. Material providers are one part of the supply chain capable of having a major positive impact on a project's performance. But we're not always sufficiently empowered or incentivised to innovate as a result of transactional working. There are still too many occasions on the road network where sustainable and low carbon materials options are not used because clients require a departure from standards. This is stifling innovation.
Collaboration, partnership and innovation. They are words that were relevant a decade ago, but they are now critical in 2020 and beyond. 2020 has turned out to be that pivotal year. Let's not waste the opportunity to rebuild and reinvent our industry.
Paul Fleetham is managing director, contracting at Tarmac