The 2018 ADEPT conference took place late last year under the theme Shaping Places for Thriving Communities with top speakers from the heart of government, including roads minister Jesse Norman.
ADEPT's annual conference returned once more to the Radisson Blu hotel at the Manchester Airport – at the heart of a piece of transport infrastructure that is largely local authority-owned and going through a major upgrade. Appropriately, the theme of keeping pace with change was a constant.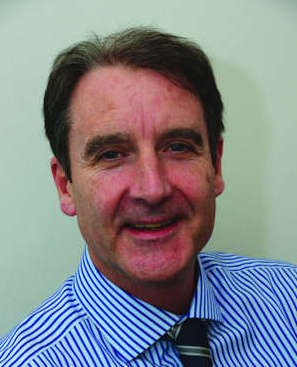 The organisation's 2018/19 president, Neil Gibson, nevertheless got things moving by delving back a couple of millennia into history with a quote from Confucius: 'When it is obvious that goals cannot be reached, don't adjust the goals; adjust the actions.'
As turmoil over the Government's Brexit plans continued, Mr Gibson said that while over the decades change has been constant, 'I've always known Europe'.
On the local picture, he said: 'The business is shifting. We know it. Every day we work in it, whether it be in the public sector or the commercial sector.
'As we try to push back demand out of our system, because we can't afford it, communities are increasingly asked to take more on themselves – be it community action [or] volunteering'. He cited the example of residents filling in potholes, "because it's cheaper".'
The funding landscape is also constantly changing he said, referring to sub-national transport bodies (STBs) coming into the marketplace to capture funding from the state, alongside new combined authorities.
With cash coming in different ways, he said, 'we have to be ever innovative about how we build relationships with the different bodies to land investment for things that are important to us at a local level'.
He added: 'I think the aggregation of place is a mixed blessing. I'm quite an advocate of scale in strategic intent and strategic mobility, but it can't be at the cost of local. There's a balance to be struck...it's trying to get the right synergy between scale and locality.'
In the face of 'unprecedented demand for housing' and its impact on services and the environment, Mr Gibson said: 'Planning is part of the solution but ever-increasingly we need more intervention from place directors in the housing system market and the right kind of housing in the right place.'
He referred to the Government's forthcoming Shared Prosperity Fund, which aims to compensate for the loss of EU Structural Funds after Brexit, as a 'fantastic opportunity' to not just replicate EU funding 'but to create a national investment fund, bringing UK funding pots together, into places', ending the current arrangements where councils are constantly 'knitting' various government funding streams together.
Reminding delegates of the single regeneration budget, which ran in the mid to late 1990's, he said: 'Wouldn't it be great to bring something like that back in the Shared Prosperity Fund. That's the opportunity.'
Having asked whether councils are making use of the tools provided by new technology, Mr Gibson referred to the move towards personalisation and bespoke services.
He said: 'Many councils run their own bus service or buy bus and taxi services. Why are we in that business? It's the outcome that we want – to ensure the person can get where they want.'
Bringing his remarks back to the organisation itself, he said: 'As the world around us changes, so ADEPT has to adapt.'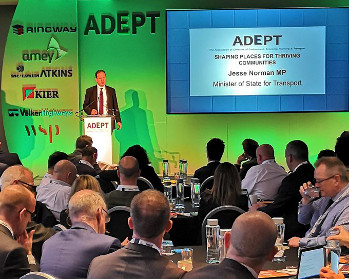 Giving the keynote speech, roads minister Jesse Norman MP (pictured) also threw down a challenge to ADEPT members – to go 'further and faster' to improve the safety of vulnerable road users and promote active travel.
With 10,000 pedestrians and cyclists killed or injured last year, Mr Norman said road safety had to be at the heart of change, with local authorities working with government.
He therefore challenged delegates to meet the target in the Government's Cycling and Walking Investment Strategy safety review for councils to invest around 15% of their transport infrastructure funding on cycling and walking.
Arguing that 'getting from A to B' is just one part of what a road network is for, Mr Norman said creating roads was not just about investment. Streetscapes need to be reconfigured to see more people benefiting from active forms of transport, he suggested.
He said roads can be 'a means by which everyone, whatever their age, ability background or circumstances can get the most from where they live'.
The minister added: 'And that can be the best jobs, it can be the best education opportunities, it can be people visiting their high streets without getting stuck in congestion, even possibly taking a stroll or taking some exercise on a bike without fear of getting knocked off, or speeding traffic, or noxious fumes.'
Martin Tugwell, of the England's Economic Heartland STB, raised the need for revenue funding to develop schemes in advance of the opportunity to bid for Government cash.
He said: 'It's not helped at times by the number of independent or separate challenge funds, which we end up having to put back together to produce the funding.'
He asked Mr Norman what he could do to provide revenue support and perhaps reduce the number of separate funds.
Responding, Mr Norman largely agreed with the point. He said: 'There's a natural tendency to go to challenge funds when what you are trying to do is target [the cash, and want] people using the money in more creative ways. So there's always going to be the target, but the trouble with that is, you do get bidder fatigue and you do get the cost of developing schemes.
'Believe me, we understand the problem. We're trying to create increasingly low-load mechanisms for people to apply and also trying to make sure that funding, when it's allocated, wherever possible is allocated according to formula, as we have done most recently for example on the £420m for potholes.'
Returning to the subject of Brexit, Nick Burkitt, deputy director - public services, environment and infrastructure at the Department for Exiting the EU - gave delegates a presentation on all things Brexit: prospects and priorities for the UK.
He said: 'It's very striking how councils are much more interested in the local place, how that will be affected and the opportunities for Brexit and their local businesses, than they are in their own organisations and services. Although the Shared Prosperity Fund is a big deal, people see that in terms of shaping place.'
Mr Burkitt said the forthcoming deal with the EU involved 'non-regression of environmental and labour standards,' stressing that 'it's about a commitment not to lower standards on either side – but that doesn't mean you enforce them in exactly the same way or you can't increase standards on either side'.
Asked by Highways whether a government whose approach to enforcing environmental standards – specifically on transport-related air pollution – has repeatedly been found wanting by the courts might dilute the enforcement mechanisms, he said: 'That's exactly why a new body will be created precisely to avoid that.'
He acknowledged: 'There are big debates about how exactly does it hold councils or central government or the environment agency or Defra to account. So we totally agree that you need to have that body, because without it there will be definitely a danger that in practice enforcement is watered down but the exact governance and how and when it reports and how it does hopefully a better job – there is still quite a lot to play for.'
As subsequent events have demonstrated, on that front and many others an awful lot can change very, very quickly.