Attempts to address the challenges and grasp the opportunities of a sector deal for highways are continuing to gain momentum, place directors have said.
The claim from directors' body ADEPT follows a workshop at its Autumn Conference, which discussed what a highways sector would look like and how it can be achieved.
Part of the Government's industrial strategy, sector deals are describes as 'partnerships between the government and industry on sector-specific issues which aim to boost productivity, employment, innovation and skills.
In September, a senior Department for Transport official spoke of the need 'to work with private sector and highways authorities to actually gear up for what a sector deal means for everyone'.
Speaking at the ADEPT conference, Martin Tugwell, president of the Chartered Institution of Highways and Transportation (CIHT), argued that it is important to recognise that the Government's commitment to the Industrial Strategy is a cross-government one, despite complaints of 'siloed thinking between departments'.
He told delegates that to take advantage of the opportunity: 'We need to have a much stronger collaboration. It's great that in ADEPT and in the other institutions you have that partnership between the private and public sector – and we need to strengthen that and build on that further.'
Mr Tugwell said there is also an opportunity for the sector to use the four Grand Challenges, of the Industrial Strategy as catalysts of change: Future Mobility, Ageing Population, Artificial Intelligence and Clean Growth through technology.
He said: 'In their own right they are components of opportunities for growth. But they are also opportunities to try to reduce the environmental impact of that growth.'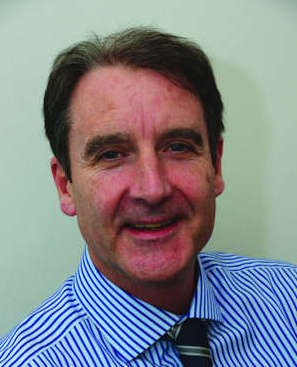 Neil Gibson, immediate past president of ADEPT and executive director, transport economy environment at Buckinghamshire County Council (pictured righ), told delegates: 'The bottom line is that in the highways world in its full sense there are many big issues we need to work on collaboratively together in the eco system to drive change.
'That's the origin of the idea – that you try to map the wicked issues in the highways sector with an Industrial Strategy approach.'
He revealed that there have been a number of working sessions to take a sector deal forward in recent months. One, led by ADEPT brought forward commissioners; another, led by the CIHT, involved professional institutions and trade organisations while there were two sessions within the private sector.
Mr Gibson said: 'The good news is that all three networks, through soft market tests have confirmed there is an appetite to continue the conversation, which is good.'
He added that there are 'some really strong feelings emerging', stressing: 'This is not a sector deal; this is simply some ideas that have come out of those soft market tests, from those collaborative conversations.'
'The first important thing: there is no single voice for the sector which can provide that collaborative leadership. If you look at the other sector deals there is a strong, collaborative leadership for the sector behind them.'
Mr Gibson also cited the issue of fragmentation within the sector, the need to share innovation and that 'our business model continues to manage decline of our assets – doesn't seem to make sense'.
On the issue of investment in the sector, he asked rhetorically: 'Why would a government put more money into a sector that is inefficient and unproductive.'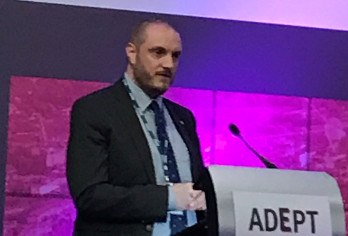 At a question and answer session later at the conference, current ADEPT president Darry Eyers (pictured right) was asked to set out how the organisation is best placed to overcome the challenges, such as skills shortages that the sector faces. He replied: 'I think actually its happening right now through the highways sector deal that ADEPT are closely involved with through our partners in the private sector.'
Referring back to the workshops, he said: 'I think it's really clear that unless as a sector we are having a conversation about the skills shortage, how we can use apprenticeships across the whole country rather than in silos, looking about how we can make the case for the right type of investment over the long term into our highways assets, then we are constantly going to be fighting with each other for funding.'
A spokesperson for ADEPT told Highways: 'The potential offered by collaboration between the public and private sectors, alongside government, continues to gather momentum, with positive engagement from all.
'We recognise the complexity of the task, but also the potential prize on offer if we can address the key challenges as well as the opportunities.'