Aberdeen City Council has struck a deal with Manchester-based technology firm TWM Traffic Control Systems to upgrade the city's pedestrian crossing network.
TWM said the deal was made possible after Aberdeen Council secured funding to upgrade its pedestrian safety infrastructure and will see nearly 100 crossing points upgraded to the DayBright enhanced HALO units (pictured) to provide safer and highly visible crossing points.
A spokesperson for the council said the deal was worth £133,000.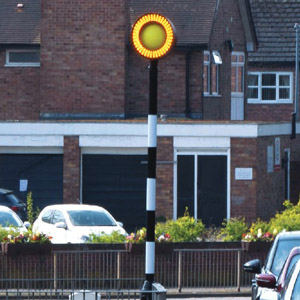 TWM, a division of Pilot Group, has previously worked with the council to install part-time 20mph speed limit signs around schools and had also installed ultra-bright LED DayBright Belisha beacon zebra crossings in locations throughout Aberdeenshire.
Chris Rayner, TWM national sales manager, said: 'After working with Aberdeen City Council to improve safety on the roads around schools, it has been a brilliant opportunity to review pedestrian safety across the entire city.'
TWM said the zebra crossings will become more intelligent, as well as safer, because its ultra-bright crossing solution integrates with Aberdeen's Central Management Systems (CMS).
The crossings form part of a city-wide smart KI-enabled (Internet of Things interface) solution. A design modification of the product, which was manufactured specifically for Aberdeen Council, allows easy integration with its existing CMS nodes.
TWM solutions can be integrated with various SMART CITY platforms such as the Ki system to allow comprehensive control of all traffic infrastructure.
The beacons will be mains-powered and the aim is for the crossings to be fully up and running by the end of November.
Road Expo Scotland and Bridges Scotland will take place from 1-2 December 2021, returning to the purpose-built SEC Glasgow.