As times get tough, and supplies can run low, Highways asks Harry Pearl of Roadmender Asphalt to help draw up an asphalt survival guide on how your team can keep carrying out essential work throughout the crisis.
Engineering companies across the country are working round the clock to manufacture ventilators, hand sanitiser and face masks, as our first priority is to keep people safe and restrict the spread of the COVID-19 virus.
Under instruction from the Government, councils and utilities are also doing everything they can to keep roads safe from emergency bursts, leaks and potholes and sadly we are all having to fall back on contingency and emergency planning at the moment.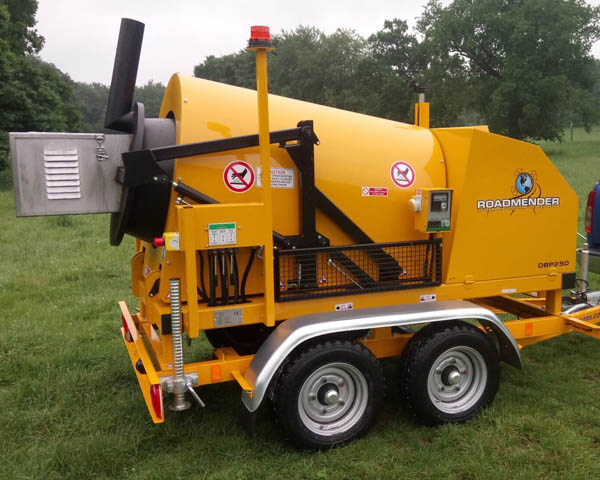 So Highways asked Harry Pearl of Roadmender Asphalt to help draw up an asphalt survival guide.
If for whatever reason, supplies run short and asphalt plants end up having to shut down due to illness or self-isolation, he has compiled a list of potential alternative technologies and innovations contractors can turn to.
Volumetric Asphalt Recycling Plants
These small mobile or static recycling plants are capable of heating and mixing small batches of asphalt on demand. While traditionally fed with bagged materials that are CE marked to EN-13108, they are also able to heat and mix stockpiled or leftover materials from the plant. In addition, they can be used to recycle road planings or breakout as an efficient, cost-effective way to carry out temporary repairs where bagged material may not be available.
Note - to do this, contractors are advised that planings must first be checked for coal tar with a PAK spray. The manufacturers also advise adding a small amount of polymer modified bitumen pellets into the mix to ensure the recycled material is given a fresh dose of warm mix, hydrated lime and high-quality bitumen that is built into the pellets.
Cold lay
Cold lay manufacturers like Instarmac, Tarmac and Viafix are working round the clock to keep customers stocked up with cold lay materials for smaller emergency repairs.
Hot box reclaimers
While new to the UK, hot box reclaimers have been around for years in the United States where, when asphalt plants in the north shut down during winter months, contractors stockpile regular asphalt from the plant that's broken down into chunks that can then be melted down when needed.
Hot box reclaimers are different from regular hotboxes in that they use what's known as conduction convection heating that enables them to gradually pulse heat around the material bringing it back to a usable temperature. With regular asphalt being three to four times less expensive than cold lay, hot box reclaimers provide a simple cost-effective alternative to cold lay for any customers that have space to stockpile asphalt.
Infrared repairs
When reacting to potholes, infrared or thermal repairs provide a great way to maximise efficiency. For example, by reclaiming the aggregate and bitumen surrounding a defect, rather than cutting it out and carrying it away, repair teams using infrared heaters require roughly 70-80% less virgin material per repair. They also have zero waste to carry away. As a result, an infrared team with 1.5 tons of material can carry out some four to five times more repairs than a traditional repair team.
If asphalt ends up in short supply, infrared heaters can provide contractors with a sensible way of doing more with less.
Mastic asphalt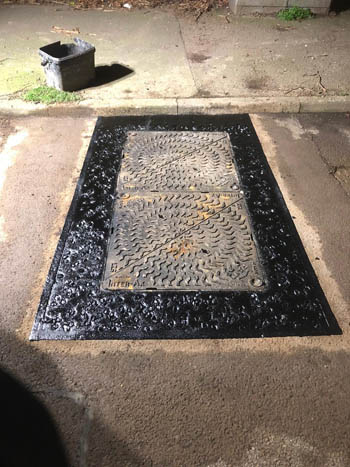 While mastic asphalt is more expensive than regular asphalt and as such tends to be used primarily on high-stress assets like manhole and gully repairs, it does have certain advantages in that it is waterproof, more durable and flexible than asphalt.
More importantly in the context of this article, mastic is in most cases supplied to contractors in pallets of blocks or bags that are heated and mixed directly at the job site. As such, mastic contractors are not reliant on local asphalt plants for supply of material and can be called upon to carry out emergency repairs any time 24/7 365 days a year if required.
Elastomac
Another new innovation currently being trialled is a hot applied rubber modified mastic resin known at Elastomac. This new sustainable material which contains around seven end of life tyres and over 60% recycled metal slag recycled into every ton is designed to be heated and mixed on-site and can be used to carry out repairs to cracks, joints, potholes, kerb channels and other shallow surface defects.
Unlike traditional mastic or asphalt, this semi-liquid repair material is poured into defects at 185 degrees and welds itself to the existing road, before being covered with a textured waterproof layer to lock out any potential for the ingress of water.
The process requires up to 85% less material than traditional saw cut and replace methods, making it more sustainable than regular asphalt, and less expensive on a square metre basis. It also enables teams can cover more defects with less material than traditional repair methods generating zero waste in the process.