Dominic Browne looks at the debate around long-term changes post COVID-19 and whether more road space will be reallocated to active travel.
Lockdown in London; the empty roads are both eerie and oddly pleasant. Even on main roads, you can smell the spring blossom. It was noticeable immediately, and it shocked by the sudden realisation of its former absence.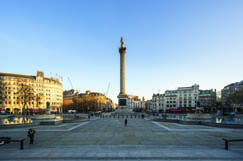 Pic: Trafalgar Square under lockdown.
Transport professionals, as with any social observers, are always interested in moments of change, transitions, peaks and tipping points. They don't come much bigger than this.
The problem started with pedestrians social distancing on narrow pavements. So naturally, they looked over to the road and realised it was hogging all the space. And calls for 'a great reallocation' began.
Chair of the ADEPT engineering board, Mark Stevens, who sits on the UK Roads Liaison Group (UKRLG), said local authorities are looking to capitalise on environmental gains made during the crisis and even at reclaiming 'some of the existing road space away from road vehicles and giving it to those sustainable travel modes'.
'We are starting to think the unthinkable' he said.
The battle over street space in cities has been comprehensively won by the car over the last 100 years, but is it unthinkable that something could shake its hegemony?
The Department for Transport (DfT) is playing carefully with the situation. Ministers told the transport select committee that while moves to reallocate more space to cyclists, for instance, were not being directed from central government they 'were aware' of the issue.
A letter sent to councils from the DfT provided 'temporary guidance' on the current flexibility, especially around the publicity requirements, when making Traffic Regulation Orders (TROs) during the crisis. It was widely reported as being a relaxation of the rules but, in fact, did not change regulations at all; it just clarified them.
A DfT spokeswoman conceded there had been no change to regulations and that road closures are a matter for local authorities. However, she highlighted that 'traffic authorities have powers to close roads or change their use for instance to pedestrianise them or to widen pavements or cycle lanes, through traffic orders'.
This is important because of what the DfT has not said. While it has not – it is unlikely it has the spare resources right now – changed regulations, it certainly seems keen to give the impression it is on the side of cyclists and walkers right now.
This raises a crunch issue as there appears to be confusion over what powers councils actually have and how they can be implemented.
Hackney cabinet member for transport, Cllr Jon Burke, wrote to transport secretary Grant Shapps urging clarification on whether 'the DfT regards the use of the Road Traffic Regulations Act 1984 section 14 (2) as a legitimate mechanism for the delivery of temporary modal filters, road closures and bus gates at this time'.
He also suggested that experimental traffic orders (ETO) could be used to make road layout changes and asked for further guidance on this as well.
At the time of writing the DfT has not clarified the situation. However, our very own Ranty Highwayman advised that ETOs do not need a consultation or even initial feedback period, as the ETO 'is the consultation'. However, they should be used on schemes where there is a view to making the change permanent.
He added that part V of the Highways Act 1980 is 'the most powerful piece of legislation for making changes to highway layouts'. While it can't be used to close a road automatically, he argued, it provides 'all sorts of interesting powers', including varying lane widths, constructing cycle tracks, installing pillars walls, barriers, planting vegetation and installing traffic calming.
Cllr Burke argues, no doubt correctly, that he has a strong majority and mandate from vocal residents, but the question his officers are wrestling with is whether radical changes are open to legal challenge. Any change in public policy might face judicial review, and opponents have plenty of scope to tie a council down with arguments about proper consultation. But who would contest such changes?
In fact, consultations themselves are difficult and open to contest. Cllr Burke says that ETOs 'would seem like the natural mechanism' to bring change, adding that regrettably, he has 'come to the view that consultations are not an effective way to get anything done', at least when it comes to the minutia of road layout changes.
Despite the challenges, Hackney is pressing on with a widespread filtering programme – using bollards and planters to prevent rat-running but maintaining access for emergency vehicles – including closing Broadway Market to traffic for six months under an ETO.
Great decision to make Broadway Market car free. @jonburkeUK overdue and hopefully here to stay. #lockdownpositives #letskeeptit #LetsStaySafe pic.twitter.com/bunWOaRkzQ

— Tobias C. Friedrich (@tobitests) May 4, 2020
Interestingly, Cllr Burke points out the importance of parking restrictions. 'You need a holistic set of proposals a lot of which are based around parking services. Around 90% of Hackney comes under a controlled parking zone and we are looking to make that 100%. These zones significantly remove inner borough movement and are something of a prerequisite to wider moves like modal filtering, road closures and bus gates.'
Manchester City Council has also become a prominent advocate for the 'great reallocation'.
A section of Deansgate is set to be temporarily closed to traffic using removable bollards, and in other busy areas of Manchester, pedestrian space is to be increased using heavy-duty 'Rhino' barriers to create extended footways.
Executive member for transport, Cllr Angeliki Stogia, said: 'When the essential lockdown measures start to be lifted, we need to make sure there is more space for people to walk in the city centre and busy district centres. That's why we're planning these changes, which will aid the economy in its recovery, boost air quality and contribute to the city's ambitious target of becoming zero-carbon by 2038 at the latest.'
Highways spoke to transport expert, and Labour party adviser, professor Phil Goodwin, about possible long-term changes post COVID-19.
He said that with the restrictions on movement, the value given to walking and cycling 'has been better appreciated, and there is no reason why this should not be encouraged to last'.
'Some tensions are working through whose outcome will depend on the way in which Governments continue to manage the crisis and especially the transition arrangements for getting back to the new normal, yet to be defined. These especially relate to the relationship between cars and other modes.
'There is, of course, a long-lasting policy question about the importance of localisation, which has been central to policy debates about planning and sustainability.
'There has been a widespread observation that air quality has gained from the reduction in car use. The big question is whether the special experiences gained through this period will have a lasting impact on the images and acceptability of different modes.
'I think there is a bigger question. The situation "before" was itself not stable, but was a complex process of trend shifting which in recent years has especially seen important changes even in the direction of mobility trends, related to the type of area and age. The question "will people return to their original habits after the crisis?" is the wrong question.
'The real issue is what happens to the already unstable trends. This will be very influenced by what Governments decide to do about the bigger crisis of climate change, which has not gone away simply because our attention is focussed on the more immediate one.'