In her keynote address to Traffex delegates, Baroness Vere said road pricing presented an 'opportunity' and that the loss of fuel duty tax revenue from the switch to electric vehicles (EVs) was an 'undeniable challenge'.
Responding to a question on the opportunity presented by road pricing, the transport minister said: 'There is an opportunity. When we think about the usage of roads nowadays it is not just about cars getting from a to b, there are other ambitions whether that be air quality, or decarbonisation, or the challenge of lower taxation for EVs.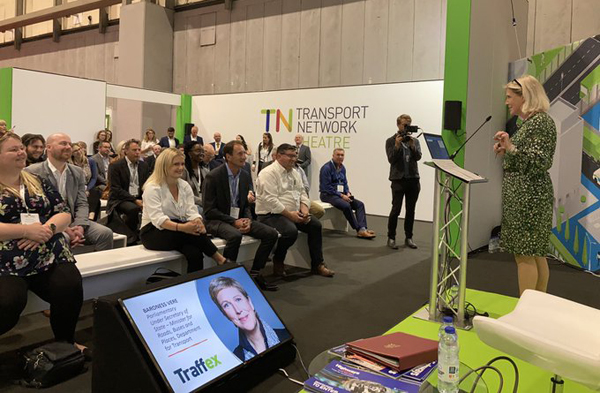 'We want people to take up EVs so we do have to provide them with incentives but we do recognise there is a challenge coming that is undeniable. The answer at this point, I am unable to define. Suffice to say we are well aware of it.'
The minister also revealed that the Department for Transport's plans to release a national road safety strategic framework were in the final stages and even that she had rejected a recent draft version.
'I saw a draft of the safety strategic framework last week and I was not happy so I sent it back with comments. We are getting there. Sometimes we give ourselves deadlines, which can be stupid because it just has to be a really good piece of work. I would very much like to get it out before the summer recess.
'It could go over to September but in general, it is more about the process of this long-term vision anyway. I promise it is coming.'
In her address to a standing-room-only crowd, Baroness Vere celebrated Traffex and said it was 'great to be back in person' after she spoke at the digital-only conference last year.
She also celebrated the innovations on display and advised the sector to share the knowledge events like Traffex provide, adding that this was a particular focus of the DfT-sponsored Live Labs 2 project.
'I have made everybody who is part of ADEPT promise me that if good stuff comes out of Live Labs 2 that everybody knows about it. There is no point in the Government investing £30m in producing some fantastic things but nobody knows about it. So we are very focused on getting that learning out across the sector.'
Questioned by Highways on the Government's Levelling Up Strategy and why powers were simply not handed to local authorities, Baroness Vere suggested there was more work to do to ensure councils have the necessary 'capability and capacity'.
'It's all about whether local authorities have the capability and capacity to use the powers properly because at the end of the day it will be cities that lose out if they can't and then they will blame the Government; however, there are various new devolution deals currently going through [the communities department] and a part of those will be transport powers.'
On the issue of the cycle of decline of the bus network, she said that her focus was on removing congestion from cities through bus priority measures to ensure bus travel is easier than private car travel.