Bidding is open to English local authorities on funding pots worth tens of millions for traffic signals support, with guidance released on how to secure the cash.
The announcement is part of what is thought to be a record £70m cash injection for traffic signals in England, made up of three separate cash pots.
The three funding pots are:
TSOG (Traffic Signals Obsolescence Grant) - A £30m fund to upgrade obsolete traffic signal systems and improve reliability, primarily at sites using halogen lamps and legacy 2g/3g communications but also aimed at unreliable and obsolete equipment more generally. This grant has a £10m automatic element paid to all eligible authorities through the integrated transport block formula process and £20m challenge element
GLF (Green Light Fund) - A £20m challenge fund to tune up traffic signals to better reflect actual traffic conditions and get traffic flowing
ITMF (Intelligent Traffic Management Fund) - a £20m challenge fund to deploy advanced technology for traffic signals, making use of machine learning and artificial intelligence (AI) to optimise traffic flow and balance traffic across wider areas
Guidance for applications
TSOG and GLF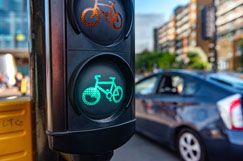 The challenge process allocated element of TSOG will be targeted at authorities with particular unresolved issues with obsolete equipment, including halogen lamps and legacy 2g/3g communications.
GLF will be available to those authorities that require support to undertake general improvement works to their traffic signal asset.
Both grants are aimed at 'resolving maintenance and reliability issues with traffic signals and Urban Traffic Control systems'. However, applications with elements of expenditure to address obsolescence and maintenance issues in ancillary systems, such as VMS, traffic monitoring or UTC will also be considered.
The challenge allocated element of TSOG and GLF will be allocated in £500,000 lots.
ITMF
The ITMF is more research and development focused than the other funds and 'the ultimate aim is to provide real-world showcases of new technologies'.
Under the ITMF, around £2m each will be made available to eight to 10 'beacon sites' in which authorities demonstrate a range of innovative technologies are demonstrated.
Authorities bidding for ITMF 'are expected to propose solutions that demonstrate the use of emerging trends in computing and data science including AI and machine learning, complex data processing and analysis and new and advanced forms of detection and monitoring'.
Eligibility and delivery
The funds are available to all English local authorities excluding London Boroughs, as well as combined authorities excluding Transport for London for which powers to pay grant (for transport) under Section 31 of the Local Government Act 2003 have been established.
Authorities may bid for either the challenge element of TSOG or GLF, but not both, depending on their needs. The application process for TSOG and GLF will run until 1200hrs on 22 December 2023, with the winners announced in February 2024.
Grant funding will be paid in full in March 2024 and must be spent in the period April 2024 to March 2026.
Combined authority recipients will need to make an additional submission to the Department for Transport before 15 March 2024 to enable the revised Section 31 Grant Determination Letter to be issued.
For ITMF, the application process will be open between April and June 2024 and grant funding paid to recipients in stages - it is anticipated that this will commence in September 2024.
Grant-funded projects will be required to be completed by September 2026. ITMF grants will be paid against agreed milestones during the project delivery period.