Birmingham City Council has announced plans for one of the toughest possible charging regimes for a Clean Air Zone (CAZ), which will include private diesel and petrol cars.
A report due to go before the council's cabinet on 26 June will ask it to approve measures to bring air pollution in the city within legal limits including the most radical Class D CAZ, which will then be subject to a full public consultation.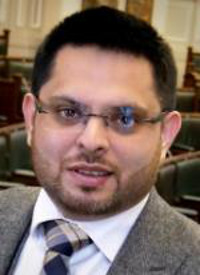 Birmingham's plans were backed by West Midlands mayor Andy Street, who called for a 'clean air revolution' to tackle the issue 'head-on'.
He said: 'Birmingham City Council has taken the bold step of proposing a Clean Air Zone for the city, and residents and other groups have the opportunity to make their views known in the next few weeks on how we tackle the air quality challenge in Birmingham.'
In an interview with Highways/Transport Network, Labour councillor Waseem Zaffar MBE (pictured), cabinet member for transport and environment, said it was 'absolutely essential' to have Conservative Mr Street's political support, as well as the practical help that the West Midlands Combined Authority can provide with regard to public transport alternatives.
Like other councils, Birmingham is required by the Government to take action to meet legal air quality limits in the shortest possible time and has assessed that to achieve this it will need to introduce a Clean Air Zone and other measures by 2020.
Announcing the plans, Cllr Zaffar said: 'Clean air is a basic human right and yet poor air quality is responsible for hundreds of early deaths in Birmingham each year. This is completely unacceptable and we cannot allow it to continue, which is why we are now looking to consult on plans for a Clean Air Zone in the city.
'The biggest cause of air pollution is road transport, particularly diesel vehicles, so we need to take action to discourage the most polluting vehicles from entering the worst-hit parts of the city. If your vehicle meets nationally set engine emissions standards then you will not need to pay anything.
'Of course, a Clean Air Zone is just one element of the wider work we are already doing to tackle air pollution in the long-term and this also includes making positive changes in the way we travel around our city.'
The proposed CAZ would cover all roads within the A4540 Middleway ring road. Under the council's preferred Class D option, charges would apply vehicles enter the zone, including buses, coaches, lorries, taxis and private hire vehicles, vans and private cars that do not meet emissions standards.
For petrol cars this means the Euro 4 standard, while diesel cars would have to be Euro 6 compliant to be exempt.