The 20km-long Norwich Northern Distributor Road (NNDR) is nearing completion and leading materials group Tarmac is applying the finishing touches with one of the latest major additions to its fleet.
Tarmac is providing the black top finish for the route, on behalf of main contractor Balfour Beatty, and its engineering supervisor, Ben Howard (pictured), and his team have been making use of the satellite-guided Volvo P8820C tracked paver for the job.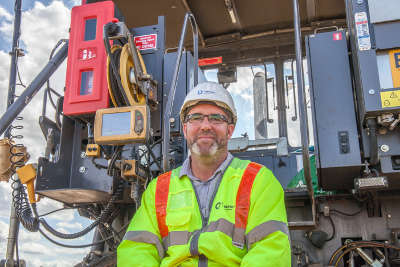 The massive and versatile paver was chosen to boost productivity, among other reasons, as it can lay two lanes in one pass.
It offers a 7.5 - 9.5m adjustable working width for its asphalt screed and a forward speed of around four metres per minute, as it covers each of the NNDR's 8.3m wide carriageways.
'The variable width vibrating screed lets us lay both lanes simultaneously, without joints or seams,' Mr Howard says (see picture, below).
'And a seamless finish is very important for the road's longevity, which makes it much easier for us to get it right first time.'
More than 150,000 tonnes of asphalt are needed to complete the dual carriageway and the various side roads leading from it. To support such a complex logistical exercise, a temporary on-site batching plant has been installed to ensure consistency of supply of asphalt materials throughout.
'Once we get the go-ahead to pave each section, we can then guarantee a constant delivery of material from our own plant to keep the paver moving until it reaches the end of its prescribed run.'
The road's sub-base was stabilised in-situ and the asphalt layers are being progressively built up to achieve the finished profile and gradients required by the client.
'We're putting down two layers of binder material, onto which a wearing course will be applied,' Mr Howard says. 'These layers comprise a 60mm base, followed by a 55mm binder and a 35mm wearing course.'
Additional benefits
'We opted to bring the Volvo tracked paver onto this job for many different reasons,' Mr Howard explains.
Tarmac highlights that its positive traction enhances productivity, while choosing no-tip walking floor bulk-trailers boosts on-site safety.
'We do get tremendous traction and stability from its tracked undercarriage, which makes it much easier to push 44-tonne walking floor bulk-trailers when they are in front of the paver's feed hopper.'
Machine control and guidance for the paver comes from Topcon's LPS/GPS, which helps each finished layer provide an accurate and even surface for the next layer to be laid on.
The machine also regulates the lateral pitch of the screed box to create the desired fall across the road surface.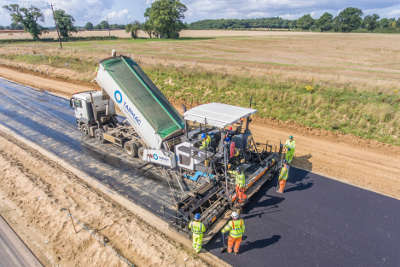 'We are working to a tolerance of +/- 6mm at finished road level, which meets Highways England's specification,' Mr Howard says.
The Tarmac team is using digital design models of the road, with the asphalt paving plans loaded into the machine's controller via a USB stick - a process that avoids the need for traditional conductive roadside pins while simultaneously eliminating a trip hazard from the work area.
In his experience, Mr Howard reports that using machine guidance speeds up the entire paving project, and has made it almost impossible to lay asphalt outside the prescribed area of the road design.
'If the machine is not in the correct location, the plans won't load and the paver won't operate using its automatic guidance capability,' he says. 'We can operate manually, but using guidance delivers far greater operating efficiency.'
The P8820C was added to the Tarmac fleet three years ago, complete with a CBGM (Cement Bound Granular Mixtures) fixed screed, while the machine's ability to also accept an adjustable asphalt screed has added operational versatility for the team.
'The Volvo's vibrating screed is highly effective at laying asphalt and it delivers a 92% compaction rate immediately behind the paver,' he says.
'As a result of this efficiency, the quality of levelling is dramatically improved too and we can maintain an even temperature across the asphalt mat to improve the curing process.'
He adds that such a high degree of compaction from the paver means there is less work for the smooth drum compaction rollers to carry out.
'With the Volvo paver, typically only 5-10mm of final compaction is achieved using the rollers and that means better operating efficiency for us,' Mr Howard adds.