On 31 March, the Highways Industry Alliance (HIA) formally launched at a virtual meeting, ratified its terms of reference and announced its first chair, Jennie Martin of ITS United Kingdom, and vice chair, Kealie Franklin (pictured) of ARTSM. In this article, Ms Franklin discusses the alliance's aims and ambitions.
The current transitions and rapid changes in highways technology, and the need to protect the environment, mean that the ITS and traffic sector currently has high and dynamic complexity. Government, users and suppliers do not fully know what the future holds and therefore how they may need to adapt.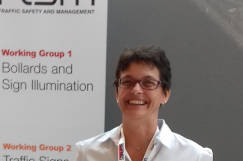 What we do know is that there is not likely to be a 'one solution fits all' approach.
The general view is that decisions about planning and development will need to be done differently, with a much greater degree of collaboration necessary to deliver the vision we all aspire to.
Society is more dynamic now than ever before with the new generation being totally engaged in the technological world. There is no going back, and things will have to be viewed entirely differently going forward, changing from the previous distinct hierarchies to a much more integrated complex whole.
Demonstrator projects, trials and challenges need to be worked through collaboratively to achieve the desired outcomes. There is an increasing need to expand the amount of engagement required, including with the user community, and for government to work more collaboratively with SMEs.
The industry is continuously trying to improve the dialogues it has, but these are still limited, and largely done through an innately narrow, top-down approach and not via a wider bottom-up engagement.
A more collaborative sector
There has been much reported about collaboration in the press over the last two or three years, but much of this has been scattered and concentrated on repeating previous collaboration arrangements rather than penetrating the whole industry.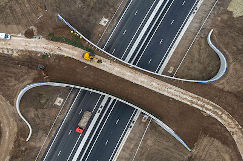 Neil Gibson of council directors' body ADEPTstated in an article in Highways that 'the first important thing is that there is no single voice for the sector …' (10/12/19). Collaboration should be more than a trend or a buzzword. Collaboration should be a cornerstone for the challenges and changes ahead. Sharing knowledge and expertise as widely as possible is key to ensure that any transition is effective, low cost and minimally disruptive.
Recognising this, in May 2018 the highways industry issued a call to action which received an overwhelmingly positive response. A first open meeting was held in May 2019 bringing together the CEOs and senior representatives from a substantial number of UK trade bodies, societies, and professional institutions across the whole span of the highways industry, for the purpose of reviewing areas of commonality between them and creating an informal, open, inclusive alliance, which can speak with a common voice with government, and its associated bodies, to develop a more seamless and broader-based platform to improve collaboration and consultation without increasing the time and effort expended for any party.
The HIA brings together through our memberships, expertise and knowledge of legacy, technology and professional development in the field. We consider that we can represent the present and the future, the manufacturers and innovators, and most of all the various organisations that maintain and support the development of industry standards.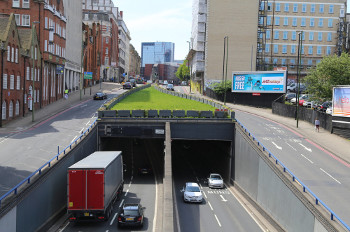 Our members sit on numerous committees and groups to ensure that the sector is well regulated in a manner that complies with UK law and is relevant and adaptable. We believe this makes us an essential group to be involved in reviewing the standards for change.
The HIA is supportive of the Department for Transport, devolved governments, the Transport Technology Forum, ADEPT, the Local Council Roads Innovation Group, and other user bodies by providing access to industry interest groups, standards groups, technical working groups and focus groups.
The Alliance was publicised at the Department for Transport Traffic Signs Working Group in June 2019 and through other dispatches to the DfT and other bodies, including ADEPT and TOPAS, and our vision has been well received.
One for all
The HIA is a broad church and has worked hard to identify the diverse parties that have a common interest in seeing a closer liaison between users, industry and government. We are always looking for new collaborators.
Our individual associations and bodies involved consist of companies across all tiers, large corporations, SMEs and individuals in a raft of specialisms across the industry from signs to signals, including all of the areas of technology in between, and also includes organisations involved in the training of engineers across all elements of the highway sector.
The HIA's aims and objectives clearly align with the Government's Industrial Strategy and SME Agenda. The Government's 2018 Industrial Strategy Construction Sector Deal document states: 'Contractual and practices in the construction sector often disadvantage small firms in the supply chain. These practices can unfairly transfer legal risk or economic risk in relation to cash flow. They act as a barrier to the development of more strategic and collaborative relationships across the supply chain and inhibit investing in productivity-enhancing technologies and skills. Changing this business model is essential to maximising the potential of digital and manufacturing technologies to deliver improved productivity.'
Having such a UK forum will be beneficial in future consultations for transport by being able to prepare our members, and provide guidance and support for government strategies. Our members need to be prepared for transition, losses, adaptation and new opportunities, and if key groups are not involved in all consultations feeding through to the whole of the sector, the disruptions to delivery will be significant.
We also recognise a need to address sensitive issues head-on, including knowing what parts of our industry are at risk and being able to understand what we can do to reduce the risks. We need to know how we should adapt and ask questions such as who will be affected and, in some cases, who may not survive. A wide ranging and open dialogue will help this to happen.
The HIA is made up of a technical working group, informed by experienced practitioners and standards makers, in short experts. We are innovative, flexible, agile, responsive, constructive and resilient. We consider ourselves to be effective representatives of our areas of the transport sector and want to make a positive contribution to the discussions about the sector's the future.
If there are any trade bodies, institutions or other organisations who feel they would like to be included in this Alliance, please contact Jennie Martin on jmartin@its-uk.org.ukin the first instance. There is no joining fee or expectation other than that proposed in our terms of reference.