Dr Erik Denneman, technical manager, Middle East & Asia Pacific, Puma Bitumen, discusses the use of crumb rubber on roads and its benefits.
The use of tyre derived rubber in bitumen for asphalt and sprayed seals is by no means a new development in the bitumen market. Mechanically shredding tyres to remove fibres and metal and grinding down the shredded rubber to crumb sized particles for bituminous binders is a process we have decades of experience in, particularly in the USA, Australia and South Africa.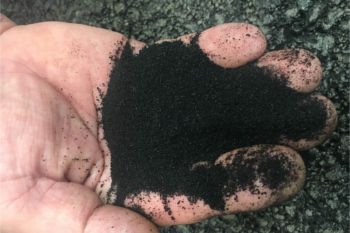 However, as the technology begins to grow in other markets, most notably across Europe, it is important for producers and consumers to understand exactly why crumb rubber initiatives are becoming so popular.
Past solutions for dealing with tyre waste were either disposal in landfill or being burnt for fuel. While the environmental benefits of alternative initiatives like recycling tyres to produce crumb rubber have been widely documented, there are plenty of other performance advantages when using this technology, which have been well researched and proven.
Driving change in roads
An area with huge benefits of using crumb rubber modified binder is open graded, or porous asphalt. Open graded asphalt is self-draining, which means there's no risk of aquaplaning, limiting water splash and spray as well as reducing vehicle noise.
Here, the high viscosity of the crumb rubber modified binder allows higher binder contents to be used in open graded asphalt, without the binder draining down. The presence of carbon black in combination with a thick film of binder retards oxidation and increases the life span of open graded asphalt. Overall, this makes for lower maintenance costs and more durable roads.
Other advantages of crumb rubber binder over traditional asphalt include the use in highly crack-resistant mixes. The superior elastic properties of the binder, in combination with a high binder content, make for products that can be applied over cracked layers and jointed concrete pavements.
In conventional asphalt such cracks would quickly reflect through to the surface. With improved rutting resistance, skid resistance and ride quality, the experience for drivers is greatly improved.
Sealing the deal
Crumb rubber modified binders are also being widely used in sprayed seals, or chip seals. Sprayed seals consist of a single coat of bitumen with a single layer of crushed stone rolled into it and in some countries such as, Australia, South Africa and New Zealand, represent most of the road network.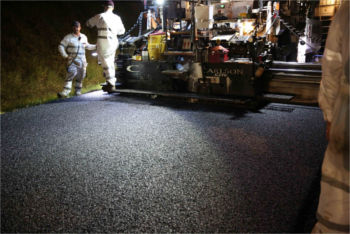 In these seals the crumb rubber modified binders can be applied at higher spray rates, which delays oxidation and stone loss on roads. In situations where the underlying pavement has cracked, crumb rubber modified seals can be used as a stress absorbing membrane interlayer/interface (SAMI) or as a crack resistant surfacing. These are highly resistant against reflective cracking.
As with all asphalt products it is sound practice to reduce production temperatures as much as possible when manufacturing crumb rubber modified asphalt in order to minimise fuming and emissions.
It has been noted that for every 12 degrees reduction in asphalt production temperature, fuming and emissions from asphalt production and laying operations are cut by half. Some jurisdictions have begun to mandate the use of warm mix technology with crumb rubber asphalt, by regulating maximum production temperatures.
There can be no doubt the payoff of using crumb rubber solutions is great for both producers and consumers. As the amount of tyre rubber waste increases year on year, crumb rubber technology provides a material that is both environmentally sound and has the performance benefits to warrant the change in process.